Chef movie review: Saif Ali Khan film is a bland dish
Updated on Jun 19, 2019 09:48 PM IST
Saif Ali Khan's Chef offers moments of brilliance which, if weaved in a more organised manner, may have given us a light, affable film. But a lazy and rather uninterested narrative takes away the pleasure.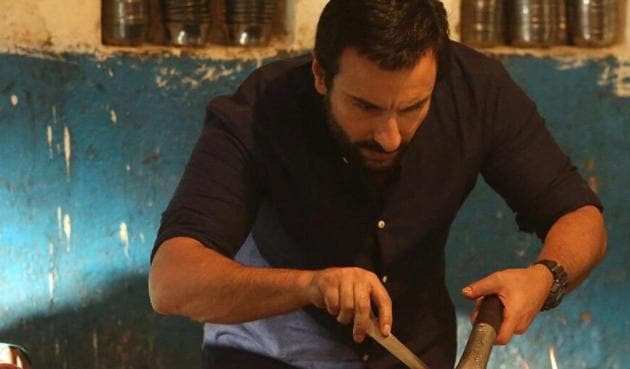 Hindustan Times |
, New Delhi
Sweta Kaushal
Chef
Director:Raja Krishna Menon
Cast: Saif Ali Khan, Padmapriya, Dhanish Karthik
Rating: 1.5/5
If you are a Bollywood fan, it is almost impossible that you would not remember Aamir Khan-starrer Dil Chahta Hai. However, if you fall into the rare category of those who don't, Saif Ali Khan makes sure you are reminded of the iconic film throughout his latest release, Chef. Those are the rare moments from this largely bland fare that you do want to remember.
Raja Krishna Menon's Chef is an official adaptation of Jon Fravreau's 2014 film by the same name - while the original was an endearing slice of life drama which managed to impress food lovers with the mouth-watering visuals, Menon's adaptation is flavourless in comparison.
Menon's movie shows us the star chef (Roshan Kalra, played by Saif Ali Khan) mostly cooking just one dish, pasta. The lead character, who is supposed to be so passionate about his culinary skills that he ran away from home at the age of 15, shows little interest in actual cooking. Even when he cooks, we see none of that artistry which can make the audience taste the dish. Mostly, we see an empty pan and then the prepared pasta. Where is that pure joy that the gustatory process can bring along? Well, there is some chola-bhatura, idli-sambhar and a sumptuous langar meal, but that's about it.
Even if we forego the food porn expected from the remake of Chef, the characters are given little space to establish their identities and personalities. While we are told Roshan is a self-made, passionate star chef, nothing in his personality gives us a glimpse of the gravity that such a man would carry. Unlike Carl Casper (Jon Favreau) from the original, Roshan is a stubborn, irrational and insensitive man. He is a chef, but has little passion for cooking. He picks up a fight with a customer in a restaurant for no apparent reason (real-life parallels, anyone?) and after he loses his job, we see no craving in him to kickstart his dream journey.
It is also shocking to see racist comments being made in a film by the same director who made Airlift, and there are many. For example, when a Bangladeshi man surprises friends by suddenly reaching India, he is asked, "Taar paar kar ke, goliyan khate hue aaye ho?" and these are supposed to be jokes on which the filmmakers expect us to laugh.
Another problem with Chef is its clunky story. Whether it is Roshan fighting with a restaurant customer or his trip to Kochi or his decision to finally take the plunge and start his own food truck -- everything happens arbitrarily. These are not sudden twists, just haphazardly placed without a context.
There are a few moments, nonetheless, that bring a smile on your face. In a few sequences that showcase the bond between Roshan and his son, one where he interacts with his ex-wife and almost every single moment Milind Soman is in the frame – you warm up to the characters. But it appears the filmmaker didn't want audience empathising with the characters for every time a scene touches the heart, the narrative moves to a different, less engaging sequence.
Saif's self referential comments may bring a smile to your face at times; especially his references to Dil Chahta Hai. Padmapriya, who plays Saif's former wife and a dance teacher in the film, is a beautiful addition and a glimpse of her dance left us yearning for at least a few minutes of a proper dance performance. Chandan Roy Sanyal, who essays the role of Roshan's friend who quits his job to support the "Chef", is fun to watch. Milind Soman is a surprise and he gives a remarkable performance despite a limited screen time. We will not reveal Milind's character, to avoid spoiling it for you in case you want to watch the film.
Chef offers moments of brilliance which, if weaved in a more organised manner, may have given us a light, affable film. But a lazy and rather uninterested narrative takes away the pleasure.
Intercat with the author @swetakaushal
Follow @htshowbiz for more
ott:10:ht-entertainment_listing-desktop
Close Story
Personalise your news feed. Follow trending topics