Kaala movie review: Rajinikanth lends his voice to Pa Ranjith's political viewpoint
Updated on Jun 08, 2018 07:18 PM IST
Kaala movie review: The film works really well as one and as a Rajinikanth vehicle; it would be wise to leave the politician outside the theatres though.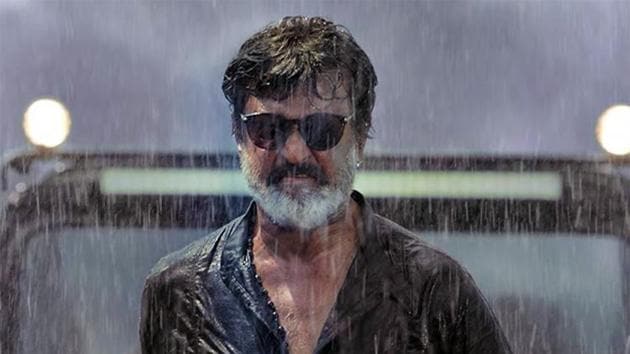 Kaala
Cast: Rajinikanth, Easwari Rao, Huma Qureshi, Nana Patekar
Director: Pa Ranjith
Rating: 4/5

If I said director Pa Ranjith towers over Rajinikanth in Kaala, would you believe me? Kaala is Pa Ranjith's political commentary that Rajinikanth has just lent his voice to. Is it a spectacular film? Not really, but it's a spectacle all right.
Kaala Karikaalan, the don who rules Dharavi, is not the star of the story. The plot revolves around the people who live in Mumbai's sprawling slum. These are the people who left Tamil Nadu for a better life and ended up living in world's third largest slum, which has an annual turnover of $1 billion. These are blue collar workers who earn their living doing manual labour and are looked down upon. Taking a cause close to his heart -- Dalit oppression, the director successfully tells a relevant story, exactly what the audience expects. He also understands that he is borrowing Rajinikanth's voice to tell his story and he will have to honour the strings that come attached with it.
"Kya Re Setting ah," is a nod to the sharp dialogues that are hallmark of Rajinikanth. The superstar entering a protest in slow motion is Pa Ranjith's response to fans who believed the superstar was not shown as one in Kabali. In Kaala, Pa Ranjith has ensured Rajinikanth gets the complete superstar treatment and it stands out because it's something we have never seen the director do before.
What we have seen Pa Ranjith deliver before are films that are truly layered and keeping with that practice, Kaala is various shades of black. Kaala is a film relevant to our times and the director is making sure you understand all of it. For instance, the first time that Hari Dada (Nana Patekar) faces Rajinikanth, he is offered a glass of water by Kaala's wife Selvi and he doesn't accept it. In many places it is still a practice to not eat or drink anything offered by those who are seen as lower castes. While earlier he left it to the audience to understand the references, the director weaves it into dialogues to make sure you don't miss it.
The Raavanan's tale is a beautiful maze of references weaved together and when it hits a peak, it is an entertaining film and social commentary all rolled into one. With Kaala, Pa Ranjith questions the status quo in a way we have rarely seen before; perhaps Mani Ratnam in his film Raavanan.
By referring to Kaala as Raavanan, a man who thinks with 10 brains, Pa Ranjith builds on the allegory early on. Soon, we realise it is more than a passing reference – it is one of the highlights of the film. As each head of Raavan is cut off during the narration of Ramayan in the backdrop, we see Kaala's fight build up in stages of loss, sacrifice and finally victory.
In Kaala though, the godly references don't stop with Raavan though, who incidentally was also painted black in all pictorial references. Pa Ranjith also references Kaala Karikaalan -- the god who guards villages and is offered non vegetarian food and alcohol. Kaala being offered a local toddy during a festive occasion draws on this practice. Kaala beginning his protest from what are the remains of a blown-up temple, the director focussing on an immersed idol of lord Ganesha, Kaala's son being named Lenin, his father called Vengaiyan – they are all details that ensure the story is rooted and may not translate too well ina different language. Even the south Tamil Nadu accent in the film has been placed there for a reason. The people may have come to a foreign land for livelihood, but the place will always be a part of them. Especially when Easwari Rao as Selvi speaks, she reminds Kaala's family of home because she remains unchanged even in Mumbai.
Can you imbibe this complexity, forcefully comment on a pertinent issue and still produce a commercial film? Pa Ranjith answers this question with Kaala. His dialogues ring out aloud in the theatre. For instance, when Kaala says, "Black is the colour of labour," it does strike a chord. When he questions why there should be a government if all they can do it is deliver scams and loot people, he reflects people's thoughts. When he sits there and repeatedly feigns ignorance about the importance of a man during a discussion, he shows what attitude is. Producer Dhanush had it right because there are moments when the whistles wouldn't stop.
The good vs the bad is trope we have seen multiple times in previous films of Rajinikanth; we saw him portray shades of grey in the past too. Ranjith's movie is mix of both and a bit of Robinhood added to it.
A powerful hero needs a powerful adversary and Nana Patekar is the man for the role. In one scene, he emerges from the dark and sees Kaala; his response is to adjust his white shirt multiple times. With this gesture, he is possibly assuring himself that he is not the same as Kaala, he is not dirty. The scene where Kaala is on the floor and Hari Dada sits on a chair stands for the class and caste distinctions.
Another relevant topic that the director takes up is women empowerment. We have conversations about women in cinema and with Puyali from Kaala who chooses to stand up straight, hit back and hit hard even after being stripped by people who are supposed to protect her, police officers, the director states that women are more than what they wear. This scene particularly makes the film almost perfect.
Speaking of the climax, Pa Ranjith does something that no director has done before and he is smart about. He treats Kaala throughout the film like a double edged sword and manages to keep a fine balance.
The music scored by Santhosh Narayanan adds a whole new layer to Kaala. There are certain scenes in the film that purely work because of his background score and the way he uses rap to indicate fight against oppression -- especially the timing of "Nikkal Nikkal" is bang on.
There are places where the film would remind you of older Rajinikanth film. For instance, "Khuda ka hukum, Kaala ka kasam (God's orders, Kaala's promise)" is similar to his dialogue in Arunchalam film, "Aandavan solran, Arunchalam seiran (God will say and Arunchalam will act)."
My quibbles with the film have to do with Pankaj Tripathi's role that doesn't do justice to the film or the actor and Huma Qureshi playing Kaala's first love. This portion of the film feels like an extension of Kabali and Kumudhavalli, only not as good. When the two sit down to speak of the past and the future, it feels like a forced conversation and their relationship in the entire film comes across as such.
Kaala works really well as a film and as a Rajinikanth vehicle; it would be wise to leave the politician outside the theatres though.
Author tweets @Priyanka_S_MCC
Follow @htshowbiz for more
ott:10:ht-entertainment_listing-desktop
Close Story
Personalise your news feed. Follow trending topics