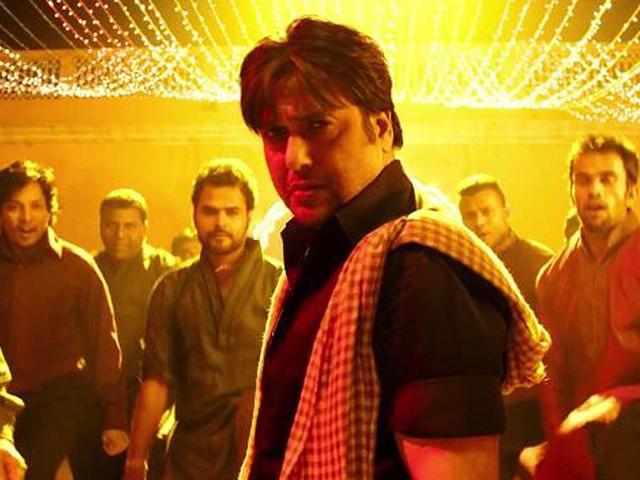 Kill Dil review: A predictable story mars the genius of Govinda, Ranveer Singh's performances
Its predictable and cliched closing notwithstanding, do take time out for Kill Dil for Govinda's power-packed performance and Ranveer Singh's energetic presence. Add some wacky, fun dialogues to the combo and you might just like this one.
Hindustan Times | By Sweta Kaushal
, New Delhi
UPDATED ON NOV 15, 2014 05:05 PM IST
Kill Dil
Director:
Shaad Ali
Cast:
Ranveer Singh, Govinda, Ali Zafar and Parineeti Chopra
Rating:
2/5
Govinda was not too far from truth when he recently said that he signed Kill Dil because Yash Raj Films package their films wonderfully. The movie is exactly that -- perfect packaging, with a very 80s potboiler feel.
The heroes in Kill Dil may be gun-wielding goons, but they are not bad heart -- just blame it all on the situations they are in. But the villain and his follies? They are unexplained, mainly because he is the villain. He is meant to be mean.

With Kill Dil, you get the ever-energetic Ranveer Singh in Dev, a very powerful Govinda in Bhaiyaji, a strong and level-headed Parineeti in Disha and a Dostana-style (the 1980 movie starring Amitabh Bachchan and Shatrughan Sinha) loving friend in Ali Zafar's Tutu. With high production value, the movie also offers beautiful locales, colourful sets and well-choreographed songs.

However, it falls flat at the most crucial point, its story. Kill Dil gives you an extremely predictable story.

SPOILERS AHEAD

Dev (Ranveer) and Tutu (Ali) are two orphans who have been brought up by a local goon Bhaiyaji (Govinda). The trio spells terror in their town and both Dev and Tutu, the two apples of Bhaijai's eye, are having the fun of their lives.

Disha's (Parineeti) entry, however, changes all the equations. Dev falls for her and starts bunking his work (which is shooting people) and Tutu keeps covering for him. But not for long. Bhaiyaji soon discovers the truth and tries his best to bring back his Dev. He succeeds, but only for some time. This is Yash Raj and love always win. So Parineeti does get back to her love and how? You can most definitely predict.

There is a lot of '80s referrence in Kill Dil. Even as the credits roll in the beginning, the characters and the back story of Dev and Tutu are established. We see Govinda literally picking the two orphans from the gutter, kids burying their books because they are "bored of goodness" and Ranveer and Ali engaging in several gunfights. Of course, the duo doesn't get hurt, even if it is blind firing across shelves!

So what works for Kill Dil? The performances, for sure. Ranveer does a good job of playing a street-style goon who is soft at heart and knows where his loyalty lies. Especially when he is trying to get a job, his efforts trigger a laugh riot. Parineeti comes out as the perfect choice for the girl who works for rehabilitation of criminals and falls in love with a criminal, unknowingly. The sequences where she proposes to Ranveer and the one where she asks him to leave are particularly well performed. Ali Zafar effortlessly fits into the shoes of his character.

Unlike Govinda's image, Bhaiyaji is no comic character. He is the authoritative godfather who kills people without any qualms about the "business" he handles. At one point he tells his shooter Dev, "Dhandha karte hain hum. Dharamshaala nahi ki aaye khaaye piye aur chal diye." Govinda plays Bhaiyaji with finnesse and looks convincing at that. There are two sequences in the movie that are worth mentioning for the best moments of Govinda -- the first is a monologue he delivers after discovering that Ranveer is in love, and then towards the end when he's trying to get his best shooter back into the fold even at the cost of his own men.

Kill Dil's dialogues too will stay with you for a long time. Sample an interesting one:

While trying to convince Ranveer that he shouldn't fall for love or girl and concentrate on his work, Govinda tells him how it is money that actually matters and he can't simply leave his work. In a classic touch, he ends that monologue saying, "Itte mein samsajh lo, isase jada gyaan diya to fees maang lenege."

The way the ending has been dealt with is particularly problematic. Bhaiyaji is someone who rules the best shooters around (Ranveer and Ali), scares them and even maintains a castle of his own. His shooters miss one target and that renders all the security in Bhaijai's castle useless. The target manages to walk into Govinda's mansion and shoot him. Perhaps even Govinda didn't like the way it ended, he tells the man pointing gun towards him, "Maarna hai, seedhe maar do kyuki time waste karne ka mood nahi hai." If you didn't have a better way to kill the godfather of your story, why waste time on last wishes?

There are too many "creative escapades" in the film. Out of the blue, the actors decide to escape to deserts and seasides, mainly to make a particular song look beautiful. The songs in the movie are interruptions in the narrative instead of weaving it along. It is only Bol Beliya that looks like it is part of the film and not a break from it. The dilemma of Ranveer's character -- to choose between Govinda, his godfather and Parineeti, the love of his life -- is clearly established with the song. Every other song seems to be inserted randomly to include a few beautiful locations and some sensous shots of Ranveer and Parineeti.

The predictable and cliched closing of the story notwithstanding, the film might still be worth a watch, simply for Govinda and Ranveer. Add to that the fun-filled dialogues and you will most likely enjoy the experience.
Watch:
Kill Dil is cliched yet entertaining, thanks to Govinda-Ranveer duo
ott:10:ht-entertainment_listing-desktop

Close