Partition-1947 movie review: If it wasn't Lord Mountbatten then who divided India?
Updated on Aug 17, 2017 07:25 PM IST
The idea is to develop a theory around a war document of 1945, which brings out Churchill and thus England's overall aggressive policy towards South Asia. Here's our movie review.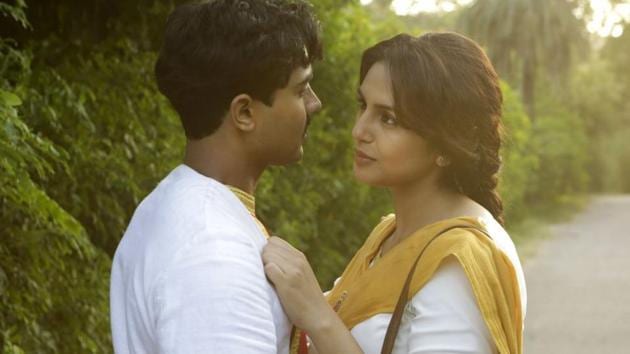 Partition 1947
Cast: Hugh Bonneville, Gillian Anderson, Manish Dayal, Huma Qureshi, Michael Gambon
Director: Gurinder Chadha
Rating: 2.5/5
History is written by the victors.
In the 340-room opulent Delhi house lives master of the country's fate Lord Mountbatten, who has no clue about what's going inside it. Seemingly a misfit for the job, he has arrived in India to finalise its partition into two states, one for Hindus and Sikhs and the other for Muslims.
Riots have already broken and thousands have been killed in Punjab and Bengal province, and thus Viceroy Mountbatten wants to get over with the physical division of the border as soon as possible. Little does he know that he is just a pawn in a much bigger scheme of things orchestrated by Winston Churchill years ago! In fact, somebody in the film says this in as many words, 'Churchill had a vision.'
Visionary or not, Churchill, of course, plays an important part in Gurinder Chadha's film, which heavily borrows from a couple of books including Dominique Lapierre and Larry Collins' Freedom At Midnight.
There are spoilers ahead.
The idea is to develop a theory around a war document of 1945, which brings out Churchill and thus England's overall aggressive policy towards South Asia. As per Viceroy's House, titled Partition 1947 in Hindi, the great Indian dissection was a tactic to restrict the Russian influence in the mineral oil zone. It would have given our old, tyrant masters a firm chance to control Jinnah's Pakistan and thus its neighbour Afghanistan. Apparently, it was much more difficult to lead Jawaharlal Nehru and his futuristic policies in the same way.
All this is known to the audience way before Louis Mountbatten (Hugh Bonneville, Robert Crawley in TV series Downton Abbey), who despite being the King's relative knows nothing about the imperial policies. His anger and grief after realising how he has been played soon transform into a volatile remorse, which makes him more human towards the Indians and the local culture.
When Michael Gambon's Lord Ismay tells him that he and nobody else is the chief architect of India's division because the arrangement is called the Mountbatten plan then, for a moment, you might take his side. After all, he is just a poor war veteran, who, along with Lady Edwina Mountbatten (Gillian Anderson), is running an outreach programme in the Indian capital for poor, sufferers and people who eat with their hands.
In short, his blissful ignorance of a conspiracy of such high magnitude is the director's ploy to shift the rage towards the players sitting in England rather than those who are getting the partition executed on the ground in India. You don't know whether to laugh or cry when Cyril Radcliffe, the engineer of the Radcliffe line between India and Pakistan, says how this is his maiden India tour.
Feasibility aside, this points a finger towards the local leadership's cluelessness towards the proceedings. How did Gandhi and Nehru miss it when Jinnah got it long before them? Then there is a conversation where Jinnah tells Mountbatten how they both wanted this to happen for their own interests.
But before that, Chadha exposes Jinnah's high-handedness and his lust for a separate country.
The stories from the interiors of the Viceroy's House come crawling out via some Hindus, Sikhs and Muslims working for Lord Mountbatten. Two of them are Jeet Kumar (Manish Dayal) and Aaliya (Huma Qureshi). Their history goes all the way to Lahore where Jeet helped Aaliya's freedom fighter father(Om Puri in one of his last roles) in the prison. This partition is also a question mark on their future, safety and belief in a common culture in times of fanaticism.
At best a highlighted sidetrack, they never take the centre-stage as the pain of one of the biggest migrations in the history of mankind engulfs us all. From Lahore to Delhi, the ochre sky is filled with shrieks and stories of inhumanity except for Lord Mountbatten, who as per the film is still passionate about the safety and wellbeing of the Indians. What a wrong choice to carry out the divisive English plans!
You'll also meet Gandhi ji (Neeraj Kabi) who forces Mountbatten to taste his curd made of goat's milk, or some Cambridge-educated gentlemen who are no less refined than the English lords. A couple of AR Rahman tunes enhance the mood here and there, but fail to contribute anything significant to Chadha's version of the Indian partition.
In 106 minutes, Gurinder Chadha ably paints the anxiety and painful relocation of millions on the both sides of the border. Her handling or rather handing out a clean chit to England's last Viceroy to India seems over-simplification of the historic episode though.
Interact with Rohit Vats at Twitter/@nawabjha
ott:10:ht-entertainment_listing-desktop
Personalise your news feed. Follow trending topics