Qaidi Band movie review: Ordinary film, extraordinary music
Aug 25, 2017 10:36 PM IST
Aadar Jain and Anya Singh are two under-trials who keep waiting for another court date in the hope of getting bail. Here's our movie review.
Qaidi Band
Cast: Aadar Jain, Anya Singh
Director: Habib Faisal
Rating: 2/5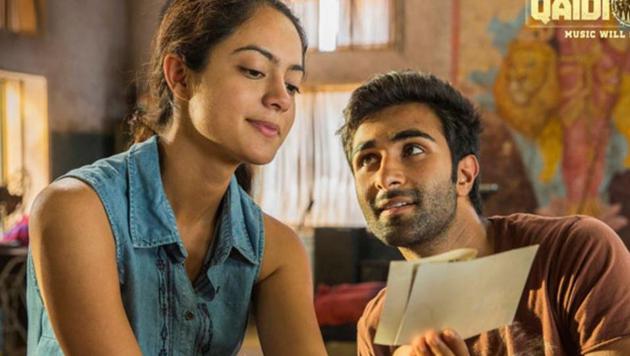 The pathetic condition in which prisoners, especially undertrials, live in Indian jails is well known. More than the length of jail term, the inmates fear the gangsters and the terrible behaviour of the jail authority. On top of that, the society is prejudiced towards them, making a return to mainstream an impossible task.
The Indian judiciary system is under heavy pressure to provide justice in millions of pending cases. The undertrials become the prime victims of this delay and they keep serving years in jails without their case even being heard.
Watch: Our Facebook Live discussion on this week's releases
Sanju (Aadar Jain) and Bindu (Anya Singh) are two such undertrials who keep waiting for another court date in the hope of getting bail.
However, this jail isn't as bad as a real-life jail. After all, it's a Yash Raj film, not an Anurag Kashyap or Madhur Bhandarkar one. The jailor Dhulia (Sachin Pilgaonkar), who keeps eating most of the time, is a weird mix of Sholay's Asrani and Karma's Dilip Kumar. Sometimes, he looks like an elderly gentleman who could be good at office politics, or a doctor who would write a false prescription just to make some quick bucks.
Dhulia floats the idea of a culture programme by the inmates that catches the attention of a minister. Featuring prisoners of different races and backgrounds, this programme turns out to be a hit and now the minister wants to use this 'Qaidi Band' for his political canvassing.
Meanwhile, we get to hear the genius of music composer Amit Trivedi, who is the real star of this interesting yet ordinary film. His I Am India that the characters keep referring to as jail anthem is one of the finest songs produced this year. But it's just the beginning, because you'll forget the lousy script and sloppy dialogues for some minutes once another song Hulchul plays. It goes beyond goosebumps and stirs the soul. Kausar Munir's lyrics are icing on the cake with Trivedi stroking your subconscious with his plectrum. You'll float in the halo of Hulchul for quite some time. Maybe I am exaggerating a bit because when you're watching the film in an empty cinema hall, everyone seems like performing especially for you.
But once the song is over, what is left are some really disciplined prisoners attempting a jail break. Lame as a banana pizza, they couldn't even generate enough sympathy for the audience to wait for another song. This gets even worse when the director Habib Faisal decides to go the Rock On 2 way.
Listen to Qaidi Band's jukebox
Just when the film is expected to hit the perfect pitch, bad writing bursts the bubble of an innovative theme. The script looks so average in the climax that you wonder why didn't make a film without any ending! The duration of only 122-minute seems much more than Faisal could handle. This also makes us realise how important Amit Trivedi is for the film whose terrific songs cover at least 30 minutes of the screen time.
Most of the actors look drab except Anya Singh who charms us with her intensity in a couple of songs. Aadar Jain's urbane attitude is probably more than what was required for such a role. But the actors can't be squarely blamed for a lousy screenplay that keeps paving way for Habib Faisal's not so subtle preaching on 'unity in diversity'. Not stating the obvious could have made the film appear more serious
At best, Qaidi Band brings up a new concept and offers some wonderful songs, but that's about it. It remains an average story told in an average way.
Interact with Rohit Vats at Twitter/@nawabjha
ott:10:ht-entertainment_listing-desktop