Vodka Diaries movie review: Kay Kay Menon trips, so do we
Updated on Jan 19, 2018 02:55 PM IST
The audience wants complexity, deeper inward journey of the characters, but it gets more of Kay Kay's cynical mannerism.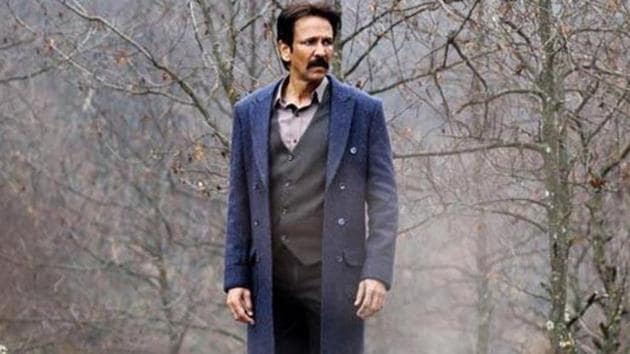 Vodka Diaries
Cast: Kay Kay Menon
Director: Kushal Srivastava
Rating: 2/5
Vodka Diaries, a hotel in Manali, becomes the city's talking point when it witnesses five murders. A suspicious cop Ashwini Dixit (Kay Kay Menon) is investigating the murder, but his operation comes to a screeching halt when his wife goes missing.
This is the basic premise, but Vodka Diaries is more of a psychological thriller than a murder mystery. Kay Kay loves his drinks and slurs. He isn't your typical trigger-happy cop, but a scared, vulnerable guy who wants to look tough. The kind we read in mystery novels. One who is always on the brinks of breaking down.
Actually, Vodka Diaries is a story within the story. Kay Kay is disturbed, mentally weak. He acts rough, but the possibility of somebody manipulating him can't be ruled out. He is battling his inner demons. In the garb of solving a murder case, he is also helping himself. He doesn't want his efficiency to be questioned.
His wife Shikha (Manidra Bedi) and assistant Ankit (Sharib Hashmi) form his world. He talks literature with Shikha and cases with Ankit. Suddenly, he realises that the case he is working on is more intimate than he initially thought. It becomes even more tedious when he starts meeting characters of his case in his personal life.
Debutant director Kushal Srivastava opens the film on a promising note. An absolute normal cop talks about life, poetry and murders in the same breath with his assistant. It's a mature take on human relationships. Nobody shows extra interest in anything. Life keeps moving at its own pace.
Some smart filmmaking techniques are visible as well. The story time travels from past to present in one continuous shot. Loud background score is jarring though, but Kay Kay's intensity supplements for it. You wait for something to happen. Something you haven't seen coming.
Roshni Banerjee (Raima Sen) is projected as that surprising element. She begins well, but the focus remains on Aswini Dixit. Things go as planned for first 40 minutes, and then it begins to waver.
You realise that it's stretched and repetitive. At this point, only a mind boggling suspense or revelation can jolt us. Otherwise, it's a slumber. Jarring background score has decided not to leave us. The audience wants complexity, deeper inward journey of the characters, but it gets more of Kay Kay's cynical mannerism.
A few more minutes, and all this turns into a weird trip. You try to see some meaning in all this, but Vodka Diaries remains true to its name. It never becomes anything other than a trippy story written after a bottle of vodka. It might have looked brilliant in the writer's head, but it's not more than an average take on the concept of alternative reality.
Kushal Srivastava is promising and brave though. His camera handling and use of characters don't strike as that of a first-timer. It seems he expected more from a predictable story.
Vodka Diaries is about under-utilised actors and losing a promising opening. It probably needed a more thorough approach.
Interact with Rohit Vats at Twitter/@nawabjha
ott:10:ht-entertainment_listing-desktop