Two leopard cubs rescued from 15-foot well in Maharashtra
Updated on Jan 20, 2018 01:17 PM IST
Cubs were trapped in the well since Wednesday night and were spotted by Junnar farmers on Thursday afternoon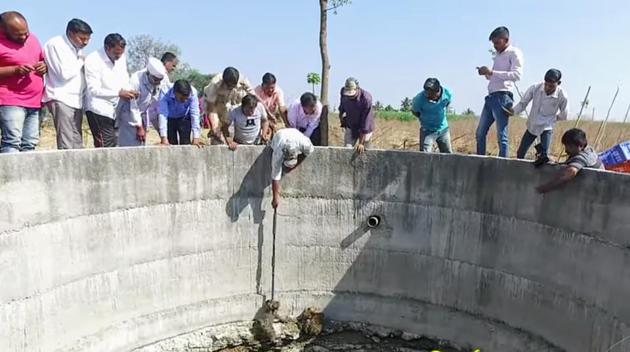 Following a two-hour-long rescue operation on Thursday, two five-month-old leopard cubs were rescued from a 15-foot-deep well at Gatwadi village, Junnar district, near Pune. After a check-up, the cubs were reunited with their mother in the night.
According to the forest department, the cubs were trapped in the well since Wednesday night and were spotted by farmers on Thursday afternoon. "Otur is a leopard-prone area and the big cats frequent villages in the neighbourhood for easy prey such as poultry and livestock. The cubs could been trapped for more than 10 hours before we were informed by the farmers," said Sachin Raghatwan, range forest officer, Otur. "We alerted the Manikdoh Leopard Rescue Centre (MLRC) of NGO Wildlife SOS to help with the rescue operation."
MLRC member said the cubs had somehow managed to save themselves from drowning in the well and had clambered onto an elevated ridge. "The cubs were exhausted when we found them. We lowered a crate for them to jump into it and I entered the well to encourage them. However, fearing for their lives, they went into the opposite directions. Finally, we used a snare pole to pull them out," said Dr Ajay Deshmukh, senior veterinarian, MLRC, adding that the rescue operation started at 4pm and ended by 6 pm
The cubs were later taken to a transit facility for a routine veterinary check-up and were kept under observation till dusk. Around 8pm, the Wildlife SOS team placed the two cubs in a safe box at a sugarcane field near the well, hoping for their mother to return.
"We were lucky, as the mother emerged from the field shortly. Upon spotting their mother, the two cubs followed her into the forest," said Deshmukh. "Female leopards are fiercely protective of their offsprings and can retaliate with aggression if they go missing, leading to a man-animal conflict. Due to habitat loss and encroachment, these wild cats are being forced to find safe cover in sugarcane fields."
HT had reported last year that MLRC has rescued 42 animals from open wells between 2016 and 2017 in Maharashtra. The rescue operations included 10 leopards, jackals, wolves, jungle cats, civets, and one case of a Sambar deer from four districts — Junnar, Ambegaon, Khed and Shirur –— within the Junnar forest division. In the last decade, around 1,500 animals have died after accidentally falling into open wells around forests, making them a hazard to wildlife
"It is a matter of great concern for us as the wild animals such as leopards continue to become the unnecessary victims of uncovered wells," said Kartick Satyanarayan, co-founder and CEO Wildlife SOS. "Without the support and understanding of local communities, it is almost impossible to address this issue. We need a holistic and sustainable solution."
Leopards at Junnar
Manikdoh Leopard Rescue Centre (MLRC) is currently home to 34 captive leopards – 11 male and 23 female - being treated for various injuries.
Over the past three years:
· 45 leopards have been rescued by MLRC within the forest division.
· In 2017 so far, 7 leopards have been rescued while one died post rescue at the centre.
· Prior to this, 18 leopards were rescue in 2016 and another 20 in 2015.
Expert speaks
"Major cases include rescue from open wells, infighting injuries, road or rail accidents. However, we get distress calls every other day from farmers and villagers to trap leopards roaming around in the area. Free roaming leopards should not be trapped as this will only increase conflict issues and give rise to the problem. Instead give space to these big cats and they will leave on their own," said Dr Ajay Deshmukh, senior veterinarian, MLRC.