65 evacuated from flood-hit Marathwada
Published on Oct 02, 2016 11:21 PM IST
Warnings have been issued to the villages — particularly those situated at the banks of rivers — asking them to take precautions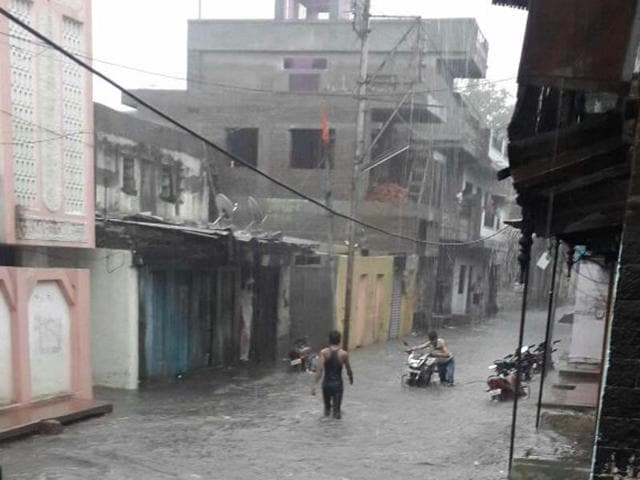 After four years of consecutive drought and its worst-ever water shortage last year, Marathwada is now reeling from floods caused by heavy rainfall. It has received 140.3% more rain than its average annual rainfall so far.
On Sunday, 65 stranded people were evacuated from Latur and Nanded. An alert has been issued in all eight districts as the monsoon has resulted in the overflow of rivers. The Indian Meteorological Department (IMD) has forecasted heavy rainfall in the region over the next few days.
The actual rainfall received by the region from June 1 to September 30 is 556.1mm, according to data released by the Rainfall Recording and Analysis Wing of the State Agriculture Department.
Umakant Dangat, Aurangabad divisional commissioner, said those who were stranded have been rescued, however, warnings have been issued to the villages — particularly those situated at the banks of rivers — asking them to take precautions.
"Till Saturday, all four rivers, Manjara, Sindhthana, Terna and Sindhusara were overflowing. Today, water levels of all except Manjara have receeded. There is still heavy rainfall in Manjara's catchment areas," Dangat told HT.
"The situation is under control but we are still worried as the water level of Manjara is still rising. This will again affect many villages of the district," Kakani said.
In Nanded, 25 people were rescued till Sunday evening. The rescue operation was carried out with the help of a National Disaster Relief Force team and a local search and rescue team, said Suresh Kakani, Nanded collector.
A flood-like situation became imminent in the district after water from two dams — Upper Maniyad (1.25 lakh cusec) and Lower Maniyad (70,000 cusec) — were released against the backdrop of heavy rainfall, the officials said.
Pandurang Pol, Latur district collector, said they have rescued 40 people from various locations.
Chief minister Devendra Fadnavis tweeted about the rescue operation undertaken by the Latur district administration. "Good work by NDRF and team led by Latur collector as they rescued 22 marooned villagers from 3 locations early this morning. 2 people from Renapur, 10 each from Selu Jawalga & Mawalgaon in Ahmadpur rescued by this team are now safe. Situation is under control now," Fadnavis tweeted.