A Catch-22 debt trap for Ola, Uber cab drivers
Oct 30, 2018 12:36 AM IST
They find themselves defaulting on EMIs for their cars and also difficult to opt out of the job
Last February, after working as a part-time driver for a few years, 29-year-old Arjun Boine decided to buy his own car and work as a driver for an app-based cab aggregator. He got a loan and bought a brand new Wagon R. At first, his income nearly doubled and it seemed like Boine had made the right decision. On Monday, however, Boine was among 500-odd app-based cab drivers protesting outside Ola's Chakala office, against the management of Ola and Uber.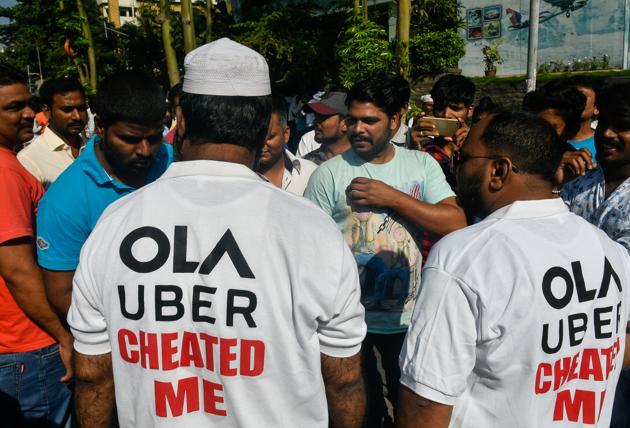 Since October 22, the majority of the Ola and Uber cab drivers have been on an indefinite strike. Their demands are several, but the priorities are higher fares and lower commissions.
"I had to pay my cab EMI of ₹10,000 today, but the cheque has bounced as there were insufficient funds in my account. This is all because the company has reduced the per-kilometre fare paid to us and my cab is off-road the past week," said Boine. Both companies slashed the per-kilometre fare from ₹8.50 to ₹6.30 and the waiting fare from ₹1.40 to ₹1.10 per minute.
Outside Ola's office, app-based cab drivers from all across the city, including suburbs like Vasai, Virar, Kharghar, Kalyan and Bhiwandi, protested for 10 hours. They gathered at 9am and shouted slogans, carried black flags and held up placards against the app-based aggregators. Some drivers tried to attack a few cabs that were not participating in the strike, leading to police intervention. There were also traffic jams because of the protest.
One of the protestors was Anil Mathew, 52, who said that when he joined Uber in 2014, he used to make over ₹1 lakh a month. Now, the number's come down drastically. "Since Ola-Uber brought their own leasing vehicles, we have stopped getting bookings beyond a limit," said Mathew. He said that drivers would previously get ₹1,200 as an incentive for just logging into the Uber app from 6.30 am to 11 am. Now, after driving for 200-250km, Mathew says a driver earns around ₹1,600-1,700. Deduct fixed costs like fuel, maintenance, loan repayments, parking and insurance, and they're hardly able to save anything.
It's also difficult to get out of the app-based cab industry. "I wanted to sell the cab, but there is no buyer. If I wanted to convert in private vehicle, RTO agents ask for ₹65,000," said Mathew.
Ola and Uber launched their services in Mumbai four years ago. The city now has 50,000 app-based caps while there are another 20,000 to 30,000 app-based cabs outside the city limits.