Mangroves near Mumbai are being destroyed methodically through debris dumping
Jun 04, 2018 11:07 AM IST
HT visited six locations in the area where mangroves have been destroyed or wetlands reclaimed. The results are worrying.
Near the Jawaharlal Nehru Port Trust (JNPT) storage terminal area close to Belpada village, a 289-hectare mangroves patch is being destroyed through systematic debris dumping. When HT visited the site, 14 large heaps of debris and mud were spotted just at the edge of the mangrove patch. "We have spotted four to five excavator machines every night dumping the debris on the trees, and trucks bringing much more debris from Mumbai, Navi Mumbai and Thane. Closer to the morning, the debris is flattened, and the recently dumped mud is made into piles. With the first light of day, it seems like no work was carried out but every night at least one hectare is eaten up," said Tukaram Koli, a member of the fishing community.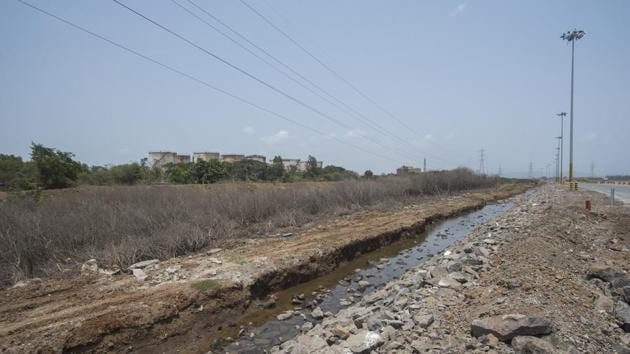 No tidal water, 4,500 trees die
Near the Hovercraft Jetty, fourth container terminal at Jawaharlal Nehru Port Trust (JNPT), where Bharat Mumbai Container Terminal Private Limited (BMCTPL) is located, a 4.5-hectare mangrove patch has been cut off from tidal water. A total of 4,500 mangrove trees, confirmed by the local forest department, have died at the spot. "These trees have died over the past six months.
READ: Dying mangroves keep flamingos and fish away near Mumbai
The forest department conducted a panchnama and confirmed that the trees were killed because there was no tidal flow. However, nobody was made accountable for it. This was an important fishing zone and crab culture site. It is now lost," said Dilip Koli of Paramparik Macchimar Bachao Kruit Samiti, a fishing committee that has raised the issue destruction of mangroves or wetlands in the Supreme Court and the National Green Tribunal.
Hacked mangrove stems tied up, hidden from public view
At one end of Jawaharlal Nehru Port Trust (JNPT) storage terminal near Belpada, HT found six different clusters of hacked mangrove stems, which were tied up and kept hidden from public view. "These have been destroyed from the creek, and the truck drivers parking their vehicles near the storage terminal use it as fuel wood for cooking. This is a clear violation of Environment Protection Act, 1986 and Bombay high court orders," said Nandkumar Pawar, head, Shree Ekvira Aai Pratishthan, a Navi Mumbai-based environment group.
Road widening destroys mangroves, thousands of birds stay away
Road widening near Jawaharlal Nehru Port Trust (JNPT) port area and 4th container terminal has destroyed a 2-kilometre stretch of mangrove trees, and the construction for the port and jetty area has eaten up the mudflats that were home to wetland birds including flamingos. "Over the past five years, over 30,000 flamingos and ibis, egrets, grey herons, cormorants, sandpipers, waders, have disappeared from this site. The remaining mangroves have turned brown and black," said Dilip Koli.
Debris dumping, lack of high tide water turns creek black
A creek, which runs all the way from Belpada village, which is one end of Uran taluka to the Jawaharlal Nehru Port Trust (JNPT) port area, has turned black with domestic waste and oil being dumped into it. The fishing community said the area used to be an excellent fishing zone. "Since a number of shops came up to cater to the truck drivers moving in this area that dump their garbage, trucks clean their tyres and dump all other forms of waste including open defecation, not a single fish can be found at this spot. The high tide water has also been cut off from this zone, thus the water does not get cleansed and remains black," said Tukaram Koli.
This catch from dirty waters offers him no reward
Deepak Mhatre, 36, a fisherman from Hanuman Koliwada village, travels 20 kilometres from his home every day to search for fish because all the creeks near his home have been reclaimed. He goes to a spot near Dronagiri, where he manages to catch a handful of fish daily. "Every month, I manage to earn Rs3,000 if I am lucky nowadays. I have to feed my family, and on most days, rather than going to the market with my fish, we eat it ourselves because no one will buy fish floating in polluted waters. Another 300-odd families are in the same condition in my village. The creeks near my house have run dry, mangroves have been hacked as high tide water has been cut off," he said.