Bird flu outbreak in Karnataka: Eating chicken? Make sure it has been cooked well
Updated on Jan 20, 2018 10:49 PM IST
Mumbai civic officials said they have not come across any suspected cases of flu, but have started surveillance at poultry farms, abattoirs and laboratories dealing with birds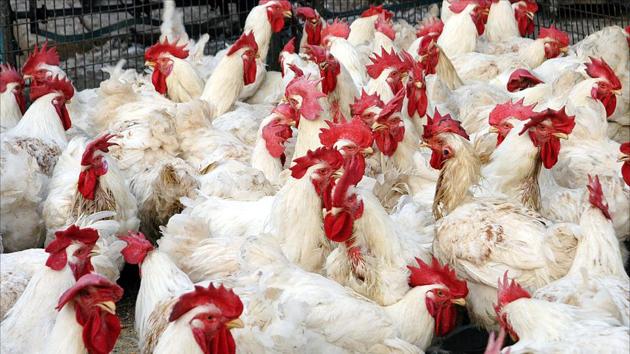 Hindustan Times |
, Mumbai
Sadaguru Pandit
Following the recent outbreak of bird flu in Karnataka, the civic health department has advised Mumbaiiites to make sure that the chicken they are eating has been cooked properly.
Avian influenza or bird flu is a viral infection that primarily infects birds — including chicken and ducks, which are bred for consumption. While most strains of the virus don't infect humans, two contagious strains — H7N9 and H5N1 — have caused serious medical complications in humans in recent years. The virus is known to spread via respiratory channels through close contact with infected birds.
BMC officials said they have not come across any suspected cases of flu, but have started surveillance at poultry farms, abattoirs and laboratories dealing with birds.
"We have asked all hospitals to send us reports of patients displaying influenza-like symptoms and to inform us if the number of such patients increase. During our house-to-house surveys, we will ask families if anyone has symptoms mimicking those of flu and treat them immediately," said Dr Padmaja Keskar, executive municipal health officer.
Officials have asked people to avoid contact with birds and their faeces. Those whose pet birds have died must avoid touching their carcasses. The health department has identified poultry and abattoir employees and laboratory assistants working with avian birds as high-risk groups. It has asked them to maintain personal hygiene to avoid the risk of infection.
On Monday, the World Organisation for Animal Health reported an outbreak of the highly contagious H5N8 virus among birds near Bengaluru. The virus reportedly killed nine of the 951 birds in December, while the rest were culled to prevent its spread.
Following this, Maharashtra's public health department put districts bordering Karnataka on alert and started convening meeting with the animal husbandry department to chart a preventive action plan. BMC officials said the guidelines were issued to keep a check on the disease.
Animal rights activists said the state has ignored the unhygienic conditions at poultry farms. NG Jayasimha, member, Maharashtra Animal Welfare Board and managing director, Humane Society International/India, said the Law Commission of India and the National Environmental Engineering Research Institute looked into the issue and came out with draft rules under 'The Prevention of Cruelty to Animals (Egg Laying Hens) Rules, 2017 and The Prevention of Cruelty to Animals (Broiler Chicken) Rules, 2017'.
"Neither the Centre nor the states have implemented these rules. Bird flu is not the only threat, we must also watch out for salmonella contamination and pesticide pollution," he said.
Personalise your news feed. Follow trending topics