Book on meditation, relaxation unveiled in Navi Mumbai
Mar 25, 2018 01:07 AM IST
Event was attended by doctors, staff of corporate companies and principals and teachers from around 30 schools
"Meditation is universal, and so is its application. It is not about belief, it is about experience," said Joshua Pollock, co- author of 'The Heartfulness Way' during the unveiling and book reading of the best-selling book in the city on Saturday.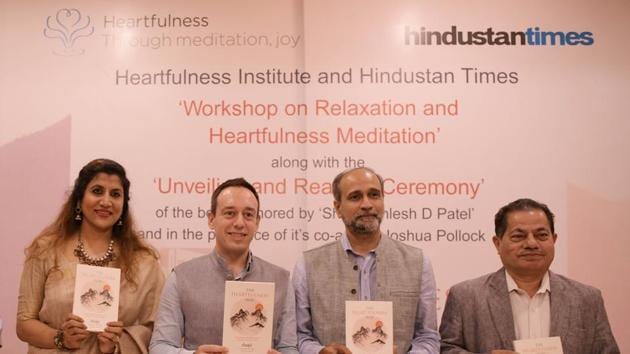 Pollock shared his thoughts at the event organised jointly by the Heartfulness Institute and Hindustan Times on relaxation and heartfulness meditation. The event was attended by doctors, staff of corporate companies and principals and teachers from around 30 schools.
Tushar Pradhan, chief investment officer, HSBC, who has been practicing heartfulness meditation for 18 years and is the zonal coordinator of Heartfulness Institute said, "Relaxation and meditation is a way of life and it changes a person. We grow professionally strong and with inner peace, it becomes easy to handle the chaos at work. Relaxation gives much-needed calmness and focus."
'The Heartfulness Way' has been authored by Kamlesh D. Patel and co-authored by Pollock.
Dr KM Vasudevan Pillai, CEO and chairman, Mahatma Education Society, Pillai group of institutions also shared his experiences of relaxation and meditation.
Pooja Singal, a heartfulness trainer for the past three years said, "I have been approached by many institutes, schools and colleges across Navi Mumbai to introduce relaxation and meditation techniques to the students, which helps them in dealing with all types of stress." Singal has been practicing meditation for 12 years.
While people enjoyed the book reading session, the highlight of the event was the relaxation session in which Pollock asked the audience to practice a technique he suggested. "The technique was easy to practice for one and all and we can definitely take out some time out from our busy schedule and practice body relaxation techniques to be relived from everyday stress," said Sheikh Farhad, 28, a student.