Daughter pilots mother's last flight as Air India crew
Updated on Aug 01, 2018 07:10 AM IST
Pooja Chinchankar retired on Tuesday after a Mumbai-Bangalore-Mumbai flight, which her daughter piloted.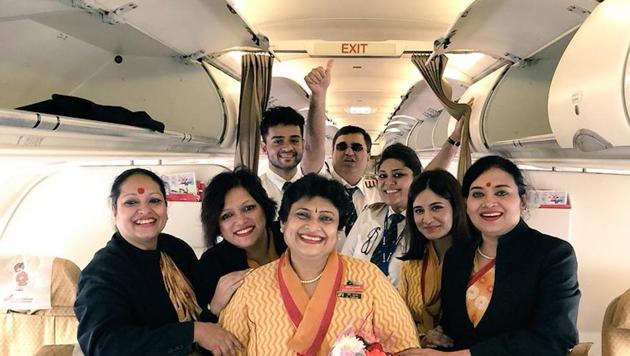 Hindustan Times |
, Mumbai
Neha LM Tripathi
It was her last flight as cabin crew member after she had served the national carrier, Air India, for 38 years. But, what made it more memorable was that the flight Pooja Chinchankar would service was flown by her daughter, Ashrrita.
Pooja Chinchankar retired on Tuesday after a Mumbai-Bangalore-Mumbai flight, which her daughter piloted.
Soon after the flight, Ashrrita Chinchankar tweeted: "So happy and honoured to be able to pilot the one flight that mattered. It was my mom's dream to have me pilot her last flight as an Air Hostess with @airindiain :) As she retires after her glorious 38 years of service, I will be carrying on with her legacy #grateful #proud."
Ten minutes before the flight was to land, the pilot in command used the passenger announcement system to inform the passengers about Pooja Chinchankar's retirement. The passengers then cheered as she walked down the isle one last time. Ashrrita tweeted a video of this moment recorded by a fellow crew member and thanked the passengers.
Pooja Chinchankar joined Air India in December 1980, and has been flying from Mumbai since March 1981. Ashrrita joined the carrier in 2016.
"Ashrrita was a mass media student, when I casually happened to ask her if she was interested in flying," Pooja Chinchankar told HT.
"To our surprise, she was prepared to go for the course in two days. I wished to see her as a pilot, looking at how such few women take to the profession. After getting her as commercial pilot licence from Canada, Ashrrita got offers from
private airlines but she chose Air India."
The mother said this was when she told Ashrrita about her dream of flying with her on her last day.
Pooja Chinchankar, who sums up her journey with the national carrier as "wonderful experience", said she got to know of her daughter's plan only on Tuesday when they both reached the airport together.
Ashrrita said she had requested the airline management to schedule her on her mother's flight. "It feels amazing to fulfil your mother's dream. It was a heartwarming feeling and I am thankful to everybody on board who made this possible.
Personalise your news feed. Follow trending topics