Divine drapes: Mumbai civic body worker goes the whole 9 yards during Navratri
Updated on Sep 25, 2017 01:28 PM IST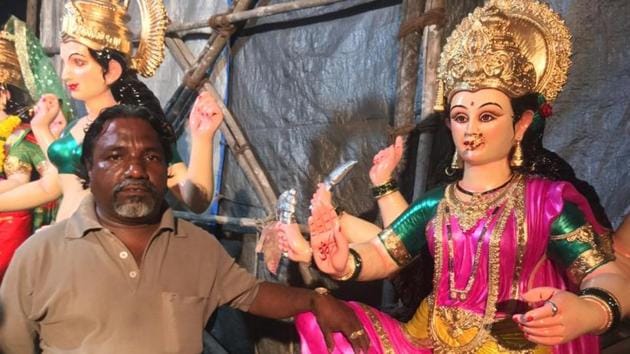 Hindustan Times |
, Mumbai
Yesha Kotak
During the ten days of Navratri, Ashok Prabhulkar is a very busy man. After his shift with the E-ward of Brihanmumbai Municipal Corporation (BMC) gets over around 2pm, he travels across the city to drape sarees for the deities, which includes apsara style, lavni saree, south Indian type, Gujarati pattern and so on.
"After my working hours are over, I visit around five mandals daily, from day one till Dusshera. There are some who specially request me to come on some days. There have been times when I have draped around 10 sarees on a devi," said Prabhulkar.
With no formal training in saree draping, Prabhulkar has learnt the skills by just observing the look of deities in pictures. Though Prabhulkar studied only till 12th, he was always passionate about arts. He first visualises the look of the idol, on the basis of which he decides the type of saree that should be draped.
Ask him if he feels it is a female-oriented field, he says, "I don't think that it is only a female's work. I helped a drape a nauvari saree at her wedding. At times I help my wife too. Sometimes people even call me to help them with Ganpati's dhoti," he said.
With just a few safety pins, Prabhulkar uses five sarees to make the deity look like apsara, which takes him around one-and-a-half hour.
On Dussehra every year, a Lonavala-based politician Amit Gavali, who gets his deity from Mumbai, invites Prabhulkar to drape the saree of the deity before it is taken for immersion.