Expect traffic snarls as repairs on Bandra flyover to start from Jan 27 till Jan 30
Updated on Jan 26, 2017 12:48 AM IST
The Prabhodankar Thackeray flyover on the Western Express Highway in Bandra (East) will have vehicular traffic restrictions as emergency maintenance repairs will be carried out on the flyover from Friday morning till January 30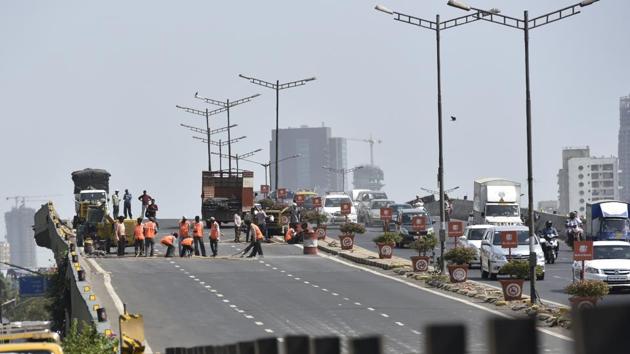 The Prabhodankar Thackeray flyover on the Western Express Highway in Bandra (East) will have vehicular traffic restrictions as emergency maintenance repairs will be carried out on the flyover from Friday morning till January 30. Motorists travelling along the WEH are likely to experience snarls and are expected to plan in advance, officials said.
The Public Works Department (PWD) will carry out the repairs on the north-bound stretch of the flyover for the replacement of expansion joints.
The PWD had carried out a similar renovation on the south-bound stretch in June last year.
The flyover will be reopened for regular traffic around 6am on January 30.
The north-bound stretch will be completely closed to vehicular traffic from Friday until the reopening.
Meanwhile, two lanes on the south-bound stretch of the flyover will be open for vehicles going towards north Mumbai after 3pm, during which time only one lane will be used for vehicles heading south.
"Counter lanes will be created on the flyover till 3pm to ease the congestion caused by the closure of the north-bound stretch," said Sanjay Jadhav, deputy commissioner of police, traffic (western suburbs).
The traffic police personnel deployed on the stretch will be diverting the traffic to the slip roads adjacent to the flyover during the period of traffic restrictions.
Vehicles headed north can use the two lanes on the flyover till 3 pm or they can take a left turn after Kherwadi bridge and make use of the slip road to further head to Kalanagar junction and then towards Bandra Reclamation.
The work was scheduled to start on Thursday, however, after a meeting between PWD officials and traffic police senior officials, the renovation work was postponed by a day in light of the Republic Day celebrations.
"A programme is scheduled in MMRDA, which will see an increase in the traffic around the area. The PWD has hence requested to start work on Friday," added Jadhav.
What is the road map?
NO ENTRY
North-bound stretch of Prabodhankar Thackeray flyover will remain closed from Friday till 6am on January 30
Motorists wanting to travel towards north should use the following diversions:
Bandra railway bridge north-bound - left turn to the slip road (the one adjacent to the flyover) – Kalanagar junction – Bhaskar court junction – Kherwadi bridge northbound
On the nouth-bound stretch of the flyover, two counter lanes will be opened for motorists after 3 pm.
Motorists will be required to use the following diversions:
Kherwadi bridge south-bound – left turn to slip road – Kalanagar junction – left turn towards BKC, Dharavi or a straight towards Bandra railway bridge south-bound
NO PARKING: There will be 'no-parking' on both north and south direction on the Western Express Highway from Bandra railway bridge junction to Kherwadi bridge junction
READ
MMRDA plans new flyover at Ghatkopar, experts call it useless