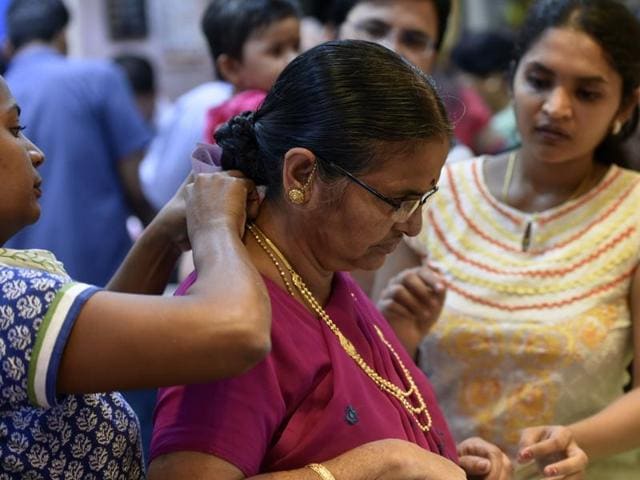 Few in Maharashtra go for gold this Dussehra
Experts attributed the drop to several reasons, including the high price of gold — at Rs30,150 per 10 grams, compared to last year's Rs 26,900
PUBLISHED ON OCT 13, 2016 01:01 AM IST
Gold sales saw a decline in Maharashtra this Dussehra, considered an auspicious day to buy gold.
The sale was recorded at Rs 300 crore on the festive day, a lot less than last year's Rs450 crore
Experts attributed the drop to several reasons, including the high price of gold — at Rs30,150 per 10 grams, compared to last year's Rs 26,900.
Other factors such as recession in the realty market and the severe drought that affected the rural economy for most part of this year also contributed to the loss, experts said.
"Gold prices are highly prohibitive, which resulted in many buyers postponing their purchases for the Diwali season," said Kumar Jain, vice president, Mumbai Jewellers Association, confirming that the sales did suffer during Dussehra.
"In addition, there is lot of money struck in the real estate projects, which means many consumers could not invest in gold," he said.
The state also faced one of the most severe droughts in history this year, which was major factor and added to the decline, said experts.
"The drought condition also constrained many buyers in rural areas, areas that usually contribute to more than 67 % of the total sales," Jain added.
According to the All India Gem and Jewellery Trade Federation (GJF), one of the major factors that affected the sales was the prevailing sentiment among gold buyers that prices will drop shortly.
"The response during Dussehra was not encouraging, but we expect that sales will pick up once the prices come down," said Raman Solanki, treasurer, GJF.
"The global trends, such as the likelihood of strengthening of the US dollar, will all contribute to the fall of gold prices," Solanki said.
India is the largest market for gold trade and the world's second largest importer.
Gold plays an important role for Indians, especially during weddings and other festivals. Four main festive days are considered auspicious to purchase gold in India — Gudi Padva, Akshay Tritiya, Dussehra and Dhanteras.
After the 45-day countrywide strike in March-April to protest against the levy of excise duty, jewellers, who are back at work had to face the hike in gold prices as they breached the Rs31,000 per 10 gm mark.
Close