Had no option but to kill tigress Avni: Maharashtra forest minister
Updated on Nov 29, 2018 08:19 PM IST
The Opposition legislators asked why Avni was not tranquilised and raised questions over selection of the shooter despite his controversial background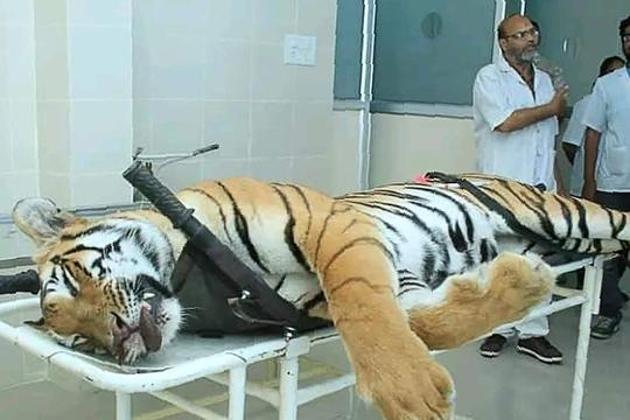 State forest minister Sudhir Mungantiwar on Wednesday told the state Assembly that the government had no option, but to kill tigress Avni in Yavatmal earlier this month, as the maneater had killed 13 people.
This is the first statement made by the minister on the floor of the House on the controversy over the killing that got him flak from animal activists, political opponents as well as BJP's union minister for women and child development Maneka Gandhi.
The minister made the statement in response to a calling-attention motion raised by Bharatiya Janata Party (BJP) legislator Atul Bhatkalkar. The Opposition legislators asked why Avni was not tranquilised and raised questions over selection of the shooter despite his controversial background. Senior NCP leader Jayant Patil said, "Why was Asghar Ali Khan allowed to kill when his father, Nawab Shafat Ali Khan, was officially appointed to kill the tigress. The state has also ignored his father's controversial background, who was once allegedly arrested in a gun smuggling case."
The state has already formed a committee to probe the incident. Mungantiwar declared the state would consider increasing compensation to the family of people who die owing to man-animal conflict to ₹15 lakh from ₹10 lakh.
In his clarification, the minister said the state forest secretary or he has no authority to issue killing orders. "The order to kill her was issued by the principal chief conservator of forest (PCCF). Before that, the state undertook an operation to tranquillise her, which lasted for more than two months. Italian dogs and later elephants, too, were used for it, but in vain. The matter was sent to the Supreme Court that had allowed her killing in case she could not been tranquilised," he said.
Mungantiwar said that not only Maharashtra, Nawab Shafat Ali Khan has been appointed as official hunter by nine states in the country. A similar killing was also carried out in 2009 in Pilibhit, Uttar Pradesh, which is also the constituency of Maneka Gandhi. The forest minister said killing an animal can't be an option to deal with the issue of man-animal conflict, and he would try to reduce such instances.
Personalise your news feed. Follow trending topics