How illegal Bangladeshis entering India from porous borders are keeping Maharashtra ATS on toes
There are suspicions that Ansarullah Bangla Team has set up sleeper cells in India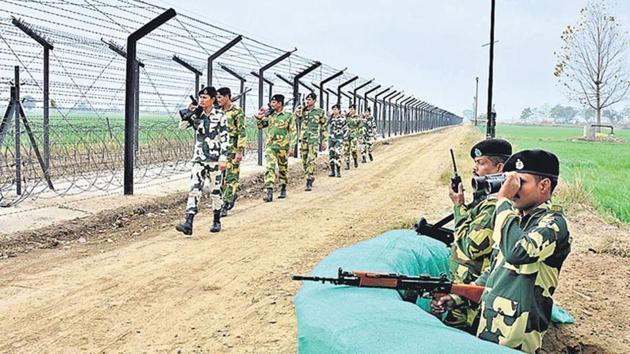 Published on Apr 20, 2018 11:17 AM IST
Hindustan Times |
, Mumbai
Aritra Hazra and Faisal Tandel
In March, Nazrul Shaikh (name changed to protect identity) was picked up by the Navi Mumbai unit of the Anti-Terrorism Squad (ATS). It didn't come as a surprise to Shaikh, who works as a labourer and lives in the outskirts of Mumbai. Although he blends in the crowd and has made his home in India, Shaikh is a Bangladeshi.
Between January and April of 2018, 29 Bangladeshis have been arrested by the ATS for staying illegally in Maharashtra. Of these, three are suspected of having connections to the Islamic extremist organization Ansarullah Bangla Team (ABT), which is believed to be responsible for the deaths of five prominent bloggers in Bangladesh. Colloquially known as Ansar Bangla, ABT is 'inspired by' al Qaeda and banned in Bangladesh.
There are suspicions that ABT has set up sleeper cells in India. In August 2017, the Uttar Pradesh ATS arrested Abdullah al-Mamon, a member of ABT, in Muzzaffarnagar. He told the ATS that his job was to organize fake identification documents, like Aadhar, for ABT members when they came across the border.
Closer home in Maharashtra, the hunt for ABT operatives has taken ATS to different parts of Pune, Panvel, Kharghar, Ambarnath, Raigad and Mumbai. At least five of the 29 Bangladeshi nationals arrested in 2018 are believed to have ties to ABT. There are other suspects who have not been arrested, but are under surveillance.
It's difficult to identify these terror suspects because not only do they blend in easily with Indians in different parts of the country, but they also have paperwork, like Aadhar and ration cards, which effectively makes them Indian citizens.
A Kolkata-based agent who helps Bangladeshis illegally migrate to India told Hindustan Times that most of these middlemen are originally from across the border, having come to India a few decades ago. They carry legitimate Aadhar cards and other identification documents, even passports, but maintain ties with Bangladesh.
The business of 'helping' people go back and forth is a profitable one. The stream is steady and according to him, most Bangladeshi migrants would try to go home once a year, ensuring regular income for middlemen. "Each migrant is charged somewhere between Rs500-Rs1,000 at villages adjoining the border in Assam by the Border Security Force personnel," claimed the agent. The total cost of crossing the border can be anywhere between Rs5,000 and Rs8,000.
The experienced ones have a "setting" with the security forces patrolling the border, said the agent. He said most crossings take place at night. Some parts of the India-Bangladesh border have electrified fences and if the stationed officers are 'cooperative', these will be switched off at particular times to let illegal migrants leave one country and enter another.
"Migrants either enter from Murshidabad, a district close to the Bangladesh border in West Bengal, or from the creek in Assam," the agent told HT. "Border forces from both the sides help the migrants who pay the amount to their agents. We make money by doing illegal activity but there is something which even bothers us, that is exploitation of women who cross the border by the people who have the authoritative power."
On Indian soil, the Bangladeshis will be handed over to another agent – "with good contacts in the railway" – who takes the group to Howrah railway station. "Once the group gets on the train, they meet another agent who has a valid identification card as all the reserved tickets are on that ID. They are then handed over to the agents at their destination, mostly Delhi and Mumbai, who eventually get work for them," said the agent.
It's a well-oiled process, made smooth by the collusion of border security forces on both sides and middlemen. In 2016, the Union minister of state for home affairs said there were approximately two crore illegal Bangladeshi migrants in India. Officials are tight-lipped about what kind of threat ABT actually poses in India but from the crackdown on illegal migrants in Maharashtra, it is clear that the ATS isn't taking ABT lightly.
Caught in the crosshairs of investigators and middlemen are poor people like Shaikh, who technically should be deported to Bangladesh but are now rooted in India. Shaikh is in his mid-thirties and has lived in Mumbai for more than 15 years now. He's married to an Indian and has four children. He came to India as a child when his family crossed the porous border to make a new life for themselves in West Bengal and has only been back once. "I crossed the border 10 years ago by paying Rs3,000 for one side to an old woman who had her farms on both sides of the border," he said.
Like many of the labourers who were rounded up, Shaikh was let go after interrogation, when the ATS was convinced he knew nothing about the ABT. They had, however, kept his phone. He didn't mind. They can keep his phone so long as he can go back to the 10x10 feet shanty outside Mumbai that he calls home.
Close Story
Personalise your news feed. Follow trending topics