In Mumbai: Now, a robot that can deliver medicines to patients
Apr 21, 2017 04:12 PM IST
Engineering students invent the device under an IIT-B initiative that aims to train them to create embedded systems
We are all familiar with vending machines. From automatic ticket vending machines at railway stations, to coffee vending machines in offices, all of them reduce our dependence on others and save time. Now, a team of engineering students from Fr Conceicao Rodrigues College of Engineering (CRCE) in Bandra have made a robotic vending machine that dispenses medicines in hospitals.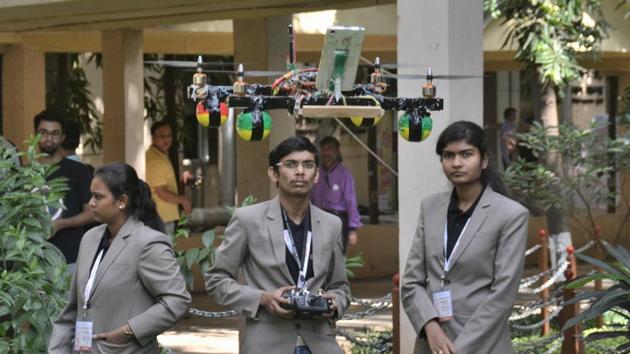 Medibot, as the device is called, is fed with medicines and it moves from one hospital bed to the next. The patients are provided with radio-frequency identification (RFID) tags — similar to the plastic tokens of Mumbai Metro — that have the data about the quantity of medicines the patient has been prescribed. As soon as the patient scans his tag on the RFID reader on the robot, it dispenses the medicines.
Medibot was declared as the 'most innovative solution' at an annual national level embedded systems and robotics competition held by Indian Institute of Technology, Bombay (IIT-B) on Saturday. The competition, known as 'eYantra Ideas Competition' is part of an IIT-B initiative to train engineering students in embedded systems — the electronics at the heart of modern machines — to help provide practical solutions for real world problems.
Under eYantra, several colleges in India are providing practical knowledge of embedded systems and robotics at dedicated laboratories. The students, including many from the city, are using this knowledge to come up with innovative projects.
For example, a group of students from Vivekanand Education Society's Institute of Technology have developed a kiosk that can provide assistance to travellers at airports in their mother tongue. The traveller just has to ask a question in a microphone like 'flights to Dubai' or 'where is the washroom' and the screen displays the necessary information. The kiosk uses 3D maps to make it more convenient for travellers to find their way around the airport.
"The entire communication system at airports is in English. As a result, many people, who don't understand the language, often get lost . Our kiosk serves as a communication companion and makes people self-reliant," said Gresha Bhatia, a professor who guided the students.
Similarly, another team of students from Ramrao Adik Institute of Technology designed a robot that can find its way around the obstacles. The pre-programmed machine is capable of sensing an obstacle and finding the nearest path to the destination. "Most of the industries use line follower robots, which move in a straight line and stop if there's an obstacle in the way. As a result they fail to deliver the goods on the designated spot. But our robots keeps looking for a path, even if it is surrounded by hurdles," said Kashif Arif Shaikh, one of the team members.
According to Kavi Arya, a professor at IIT-B and principal investigator of e-Yantra, these competitions help students gain practical knowledge about embedded systems while inspiring them to come up with original ideas for their engineering projects, instead of plagiarising existing projects or purchasing one from the market. "Most engineering graduates are not knowledgeable. They are just trained to clear examination," he said.
At a time when the job market is shrinking for engineers, Arya suggests these projects can also morph into start-up ideas.
What is e-Yantra?
e-Yantra is an initiative by the Indian Institute of Technology, Bombay (IIT-B) that aims at creating the next generation of embedded systems engineered with an outlook to help provide solutions to some of the real world problems. The initiative started in 2012 and is sponsored by the Ministry of Human Resource Development (MHRD).
What does it have to offer?
e-Yantra Robotics Competition
e-Yantra Robotics Competition (eYRC) is an annual contest held for undergraduate students in science. Selected teams are given a robotic kit that has accessories and video tutorials to help them learn basic concepts in embedded systems and microcontroller programming. Abstracts of real world problems assigned as "themes" are then implemented by the teams using the robotic kits. In 2016, over 22,000 students across the country participated in the competition.
e-Yantra Lab Setup Initiative
e-Yantra Lab Setup Initiative (eLSI) is a college-level program, that focuses on encouraging colleges to setup robotics labs and guides them too. Three robotic kits are given to each participating college and a two-phased training is arranged for teachers. So far, eYantra labs have been set up in 233 engineering colleges around the country.
e-Yantra Ideas Competition
e-Yantra Ideas Competition (eYIC) solicits innovative projects from teams of eLSI colleges to ensure sustained use of the robotics labs. It aims at nurturing engineering projects embedded systems and robotics while providing a platform for teams to showcase their projects.
Studentspeak
"I was always curious about electronic objects and wanted to utilise the technology for different purposes. Nowadays, automation has reached every industry and robots are being deployed everywhere."
Kashif Arif Shaikh, student
Teacherspeak
"The students have become more confident and are coming with original ideas after participating in e-Yantra competitions. Many are looking to use their projects for their start-ups."
Saraswathi Krithivasan, project manager, e-Yantra
READ MORE
Innovations with robots, the IIT Bombay way