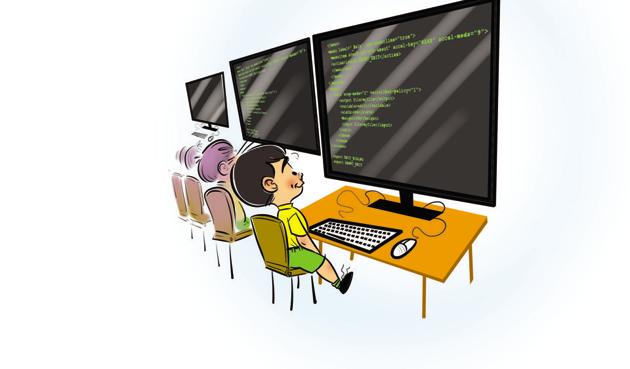 In Mumbai: Schools to ring out the old, ring in the new
The new year will see a number of schools in Mumbai adopt unconventional styles or learning or pedagogy and offer new courses that are will better prepare children for the jobs of tomorrow.
UPDATED ON DEC 26, 2016 10:19 AM IST
The new year will see a number of schools in Mumbai adopt unconventional styles or learning or pedagogy and offer new courses that are will better prepare children for the jobs of tomorrow.
Every day at Polymath School, Bhiwandi, which will start classes from the next academic year, for instance, will begin with students taking on a new project -- it could be about the power-looms in the neighbourhood or finding answers to contemporary issues. This is part of the school's expeditionary learning style, which is aimed at challenging students to think critically and play an active role in their communities. The school will follow the Cambridge International Examinations (CIE) curriculum but will incorporate the Expeditionary Learning (EL) pedagogy in its classrooms.
The learning style, developed by Harvard School of Education and Outbound learning, has 150 schools in the United States mentor each other. "The idea is to connect subjects to the real world and what is happening right now. This helps in giving context to what the students are learning," said Bhavesh Gandhi, school's trustee.
Unlike most schools, students will be engaged in projects lasting for six to eight weeks. "Most schools give a couple of projects towards the end of the academic year but we believe in engaging students in small or big projects throughout the year," said Gandhi.
Another course that some schools are adopting is scratch programming, developed by Massachusetts Institute of Technology (MIT) media lab to easily create animations and games.
From next year, many of the established Catholic schools, which offered only state-board education at affordable rates, will also start international schools. One such school is Aquinas International, Goregaon, which will begin classes from this June, at St Thomas Academy campus.
Started by the Archdiocese of Bombay, the school will offer Cambridge International Examination (CIE) curriculum from nursery to class 2 (and will gradually expand in the coming years).
What sets it apart is that it will teach coding to students from kindergarten itself. The idea is to get children to really understand, and be able to create technology and promote research skills, said Francis Joseph, school spokesperson and co-founder, School Leaders Network.
Students will be introduced to conditionals, sequences and loops and other concepts over the years. "Coding is at the heart of how everything works. It teaches students logic, thinking and problem-solving, skills," said Joseph. "This will help students in all fields and not just in engineering or technical jobs."
Increasing pressure from 21st century parents is driving schools to adopt such new pedagogies, said educators. Parents' readiness to spend on education has also shot up said educators. "The new generation parents are well-informed and at least 80% don't mind spending big bucks on school education," said Joseph. They want schools to go beyond providing formal education, said Joseph, adding, "This is why schools are looking for differentials. Parents want schools to provide specific skills."
Close to 75% parents said that the school curriculum was at odd with the practical world, found a recent survey by Next School, which will open in Mulund. The school will also follow the IB curriculum, but it is working with Big Picture Learning, an online community, that personalises learning. Parmeet Shah, founder and chief executive officer of the school, said, "We are still following a 150-year-old school education system at a time when the world is changing rapidly due to technology and globalisation. Our education system is desperately in need of new ideas that makes it relevant to the modern world."
Additionally, many of the new schools are joining the 'maker movement' to encourage them to design, think and create from an early age. It is focused on transforming students from consumers to creators. Children are encouraged to tinker with objects such as play dough, LEGO blocks, craft objects and 3D printers using design-thinking processes. The Niti Ayog, the national think tank and a leading software company are promoting Atal tinker or maker labs across schools.
Educators said that such approaches are in stark contrast to the current curriculum, which makes them interesting and relevant to students. "The school curriculum, where you do things in isolation, doesn't make much sense in this emerging world," said Avnita Bir, principal, RN Podar School, Santacruz, that took up the maker model this year. "There aren't jobs where you do one hour of maths, then physics, then art. These things need to come together at the same time."
READ MORE
Close