Kamala Mills fire: Bombay HC set to hear probe report
Hindustan Times, Mumbai |
HT Correspondent
Sep 25, 2018 05:43 AM IST
The Bombay high court (HC) has said that it will hear at length the probe report submitted by the judicial committee, which pointed to lapses on the part of various civic authorities that led to the Kamala Mills fire
The Bombay high court (HC) has said that it will hear at length the probe report submitted by the judicial committee, which pointed to lapses on the part of various civic authorities that led to the Kamala Mills fire, on October 8.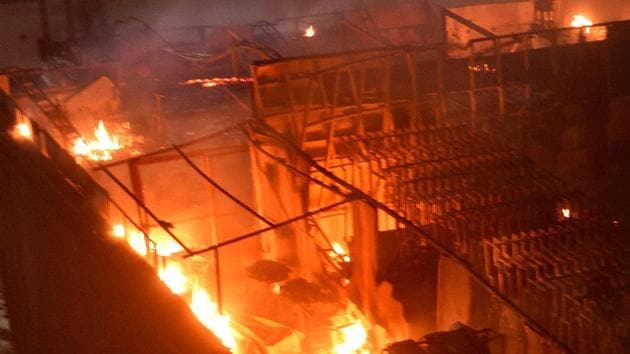 The court also allowed an intervention application filed by a resident of Santacruz who has sought the inclusion of Kamala Mills owner Ramesh Govani as a party given that he violated fire safety norms in a residential building at Santacruz and the Brihanmumbai Municipal Corporation (BMC) and Mumbai Fire Brigade are not taking any action.
When the public interest litigation (PIL) — filed by former top cop Julio Ribeiro, seeking a judicial probe in the Kamala Mills fire that resulted in the death of 14 persons — came up for hearing on Monday, the HC said that it would hear the responses of various authorities regarding the probe report filed on September 10.
After the bench of justice Shantanu Kemkar and justice Sarang Kotwal said it would hear the responses after two weeks, advocate Aditya Bhatt informed the court that he had filed an intervention application and wanted Govani to be included in the petition.
In his petition, Bhatt has said that the intervention simply looks to expand the scope of the PIL as Govani has sold and encroached upon the refuge area in a residential building called Roopkala at Santacruz. The petition further states that though there is a report of the Mumbai Fire Brigade and a speaking order from BMC confirming the same, it has been eight months since he (Bhatt) complained but no action has been taken.
The petition further states that despite numerous letters and personal follow-ups, the offender is roaming scot-free. "I could have easily filed a writ petition and the BMC would have taken some action but I want to take this matter up in the purview of larger public interest," said Bhatt.
The bench allowed the intervention and said that it would hear the same along with the probe report.