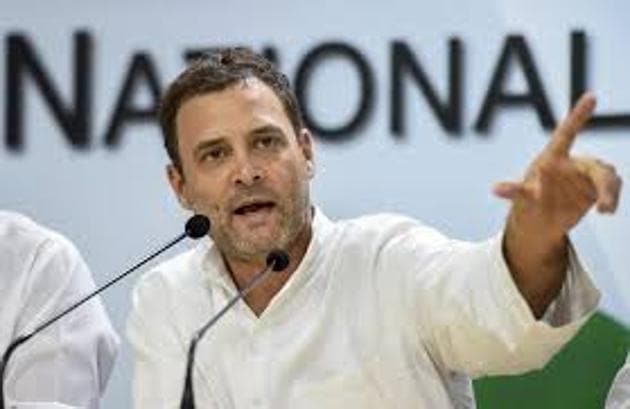 Like father, like son; Rahul, Riteish choose polite path
Both Rahul Gandhi and Riteish Deshmukh, whose fathers have been targeted, have politely emphasised their points quite effectively
UPDATED ON MAY 15, 2019 12:10 AM IST
Soon after the 2014 Lok Sabha elections, then Maharashtra chief minister Prithviraj Chavan had told me how difficult they had found it to combat Narendra Modi's in-your-face, aggressive campaign at the time.
"We could not reply in the same tones, we could not descend to that level. So we had to keep silent and that silence was mistaken for guilt. People believed he was speaking the truth when in fact he was twisting everything out of proportion," he had said.
Congress leaders could not afford to be seen as anything but gentlemen, Chavan said and seemed resigned to the fact that they would never be able to match the BJP measure for measure.
It has taken the party five years to evolve a method whereby they keep their good behaviour and still put BJP leaders on the mat. Starting from Congress president Rahul Gandhi's famous hug to Modi in parliament, all party leaders have now learnt to return wild allegations with swift but polite rebuttals and nowhere was this more manifest than when the son of former Maharashtra chief minister Vilasrao Deshmukh, the actor Riteish Deshmukh, took on Union minister Piyush Goyal for twisting the post 26/11 incidents out of proportion.
Vilasrao Deshmukh and RR Patil were chief minister and deputy CM respectively during the 26/11 attacks and I remember that their conduct after the attacks, though well-meaning, was almost akin to that of Tweedledum and Tweedledee.
Patil, of course, with his lack of knowledge of Hindi, said, "Bade shehron mein aise chhote mote haadse hote rehte hain," sounding callous when all he meant was people living in big cities should be prepared for every small and big terrorist attack. He was also Maharashtra's home minister at the time and, of course, could no longer continue in office after that seeming cavalier reaction.
But Deshmukh also put his foot in his mouth in a different but quite Tweedledum fashion. After the commandos cleared the Taj and Oberoi hotels of the terrorists, he visited the venues to take personal stock of the havoc wreaked by the attackers. The media was barred but a government videographer accompanied him. Where he erred was to allow his son and film director Ram Gopal Varma to accompany him to the sites but it was even more foolish not to have reviewed the government video before releasing it to the media.
It was not a pliant media in those days and it was but natural that they should pounce upon him for allowing that disaster tourism by his son and the latter's friend. The Congress, unlike the BJP, was never capable of brazening it out, so, of course, Deshmukh had to put in his papers as well for that error of judgment.
However, the incident was nothing like what Piyush Goyal made it out to be, alleging that the chief minister was only interested in getting his son a job. Perhaps Deshmukh could not say no to his favourite son and, of course, it was a serious error of judgment. A CM's family had no business butting into an official tour and I am sure Riteish Deshmukh has forever regretted that his immaturity cost his father his job.
But now he has hit back at Goyal, quite in the Rahul Gandhi style – with love and regards. In a Twitter statement, Riteish politely falsified Goyal's statement that he had visited Taj/Oberoi hotel while the bombings were taking place.
Though he does not say it, people still remember that the Maharashtra chief minister had not visited the sites while commandos were still dealing with the attack. He had the good sense to stay out of the way of the commandos. In fact, it was his then Gujarat counterpart who had sought a television moment outside the hotels during the attack which Goyal conveniently forgot.
Riteish has also politely rebutted that his father ever tried to get him roles in films and expressed pride in the fact. However, Vilasrao was among the most accessible chief ministers of the state, perhaps too accessible and, I guess, his readiness to be accommodative was what tripped him up in this instance.
Targeting leaders who are dead and gone and cannot answer allegations seems to have become a specialty this election season.
Both Rahul Gandhi and Riteish Deshmukh, whose fathers have been targeted, have politely emphasised their points quite effectively. Like their fathers, they have remained gentlemen to the core.
Close