Maharashtra govt takes control of Mumbai Metro route areas; no say for BMC
Jan 03, 2017 12:35 AM IST
The state has taken the decision to ensure Mumbai's Metro projects meet chief minister Devendra Fadnavis' ambitious deadline
To ensure Mumbai's Metro projects meet the chief minister's ambitious deadline, the Maharashtra government has decided to hand over the responsibility of all planning along the alignment of two under-construction corridors to its own agency, taking it away from the civic body's jurisdiction.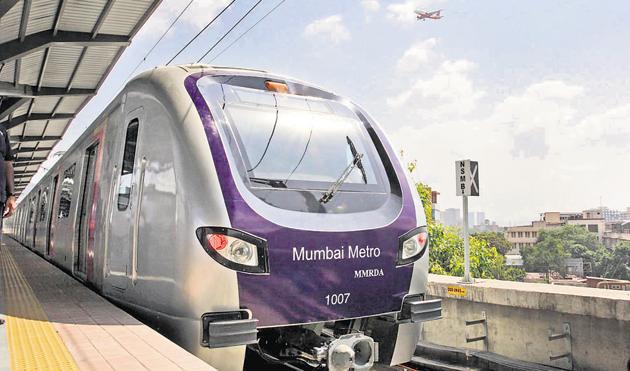 The state urban development department has appointed the Mumbai Metropolitan Region Development Authority (MMRDA) as a special planning authority for the entire alignment of the Dahisar East-Andheri East, and Dahisar-DN Nagar Metro lines. Chief minister Devendra Fadnavis heads both the urban development department as well as the MMRDA.
While the Brihanmumbai Municipal Corporation (BMC) is the planning authority for Mumbai, these areas will now cease to be under the civic body's jurisdiction, with the MMRDA having the final say. The department has also named the MMRDA as a special planning authority for several parcels of land, amounting to 147.43 hectare, that have been set aside for Metro car depots and casting yards. These are located in places such as Dahisar, Malvani, Goregaon, Mankhurd, Turbhe, Vikhroli, Kanjur and Bandra. The MMRDA will have the right to decide any kind of development on the land that will fall under its jurisdiction as special planning authority.
Praveen Darade, additional metropolitan commissioner at the MMRDA, said, "Now all works related to the Metro rail projects will not require any other agency's permission, including for the casting yard, depot as well as Metro stations. It will help save time and will ensure timely completion of projects."
Several infrastructure projects have been delayed in the past owing to the presence of multiple agencies. While the MMRDA will be the implementing authority for the delayed projects, the actual land will fall in the BMC's jurisdiction, requiring the MMRDA to approach the civic body for every minor and major permission such as for shifting of utilities, change in reservations and so on.
MMRDA officials said even simple approvals would at times take nearly a month to come, stalling work in the meanwhile.
Fadnavis has set a very ambitious deadline, aiming to complete the 16.5-km Dahisar East-Andheri East Metro as well as the 18.5-km Dahisar-DN Nagar Metro by 2019 before the state assembly elections. The chief minister has also drawn a plan to have a functional Metro railway network of 173.9km in the next five years.
Read more: