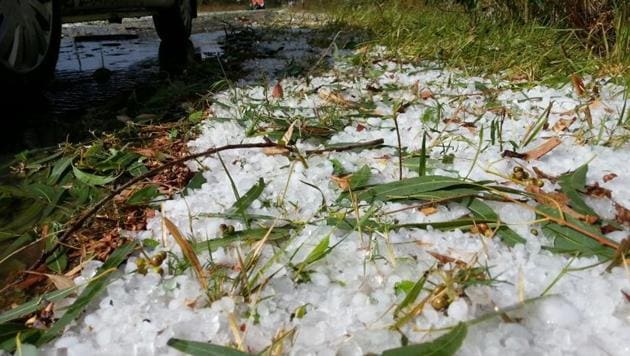 Maharashtra most vulnerable to hailstorms: IMD
Issuing timely warnings and Agromet advisories before and after hailstorms will help farmers to protect the crop and minimise loss
UPDATED ON MAR 17, 2017 12:24 AM IST
Unseasonal hailstorms didn't give Maharashtra a slip for the fourth consecutive year, damaging standing crops and horticulture crops.
An analysis of hailstorms between 1981 and 2015 across the country by the India Meteorological Department (IMD), Pune, has found that Maharashtra is most prone to this extreme weather event. Hailstorms occur when a thunderstorm increases in severity.
Of the 35-year study period, hailstorms did not hit Maharashtra for only four years.
With a 91% to 95% probability of hailstorms striking the state, the highest episode of 11 days took place between February 24 and March 14, 2014.
Himachal Pradesh, Punjab, Assam and Madhya Pradesh come next with 66-70% probability of hailstorms followed by Andhra Pradesh, Telangana, Uttar Pradesh and Haryana at 61-65%. The least occurrence (6%-10%) is recorded in Gujarat, Chhattisgarh, Tamil Nadu, Tripura, Meghalaya, Sikkim and Nagaland.
With thunderstorms and hailstorms occurring frequently during the pre-monsoon season of March, April and May, Maharashtra has witnessed this unseasonal weather pattern for four consecutive years – 2014, 2015, 2016 and 2017.
"During the pre-monsoon period, two anti-cyclones or high pressure systems form over the Arabian Sea and Bay of Bengal. In between these two anti-cyclones, there is either a trough or wind discontinuity where winds will be in the opposite direction. The two anti-cyclone along with moisture incursions from the seas leads to thunderstorms and hail storms," said S Sunitha Devi, director, weather section, IMD, and co-author of the paper 'Occurrence of hail storms and strategies to minimize its effect on crops'.
During the 11-day period in 2014, approximately 16 lakh hectares comprising standing crops and horticulture crops such as cotton, wheat, maize, grapes, mango, and pomegranate were damaged in Vidarbha, Marathwada and Western Maharashtra. Farmers in Nagpur were the worst hit as they incurred 25% losses. In 2015, agri-horticulture crops across 17.7 lakh hectares in Maharashtra's 28 districts were left damaged by untimely rains and hailstorms.
The maximum frequency of hailstorm events has been recorded over districts in the northern part of Vidarbha region, adjoining Madhya Pradesh. A 2014 study attributed highest frequency of 40 hailstorm events in Nagpur district followed by Akola and Amravati districts (25 to 30 events).
Currently, the IMD, in addition to providing short-range forecast of weather events up to three days over a region, also issues NOWCAST alerts based on data from Doppler radar of extreme weather events including hailstorms for up to six hours.
"But there is scope for improvement to forecast the occurrence of hailstorms over larger areas. There is a lack of adequate Doppler weather radar network in the country; there is none in Marathwada and central Maharashtra," said Devi.
"With more Doppler weather radars, we will able to monitor and nowcast better,"
Issuing timely warnings and Agromet advisories before and after hailstorms will help farmers to protect the crop and minimise loss. They will also be able to adopt integrated management strategies for the early recovery of the crops and trees, the paper concluded.
What are hailstorms?
In the normal course of rains, ice particles from clouds are small. During a hail storm, thunderstorm clouds are tall with ice particles moving vertically inside the cloud. These ice particles become ice crystals and their weight increases. When the vertical movement of the clouds cannot hold these ice crystals, they come down with great speed; they range from a few millimetres to 4cm.
Close