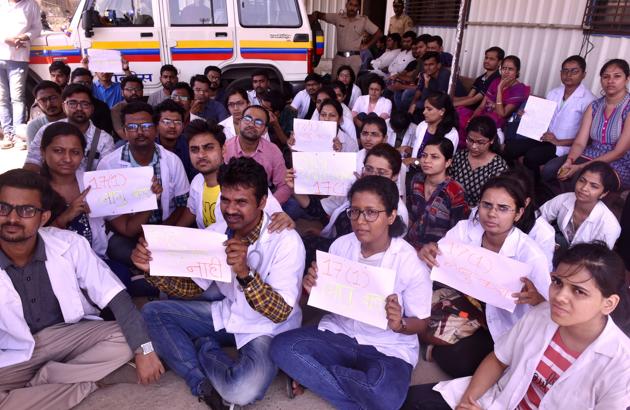 Maratha quota row: Maharashtra govt puts PG medical, dental admissions on hold till Sunday
State is exploring legal options to include SEBC quota this year despite SC ruling against it
PUBLISHED ON MAY 14, 2019 11:16 PM IST
The state government has put the admission process for postgraduate (PG) medical and dental admissions on hold till Sunday, as it looks at legal options by which reservation for Marathas under the socially and economically backward castes (SEBC) category may be retained despite the Bombay high court (HC) and Supreme Court (SC) saying the quota should not be applied to these courses this year. The government is also seeking to extend the deadline for PG medical and dental admissions from May 25 to June 15.
Following a directive from the state government on Monday, the Common Entrance Test (CET) cell put a seven-day stay on the admission process on Tuesday, when the first list of college allotments without the 16% quota for Marathas was expected. "Admissions of students admitted under the SEBC quota stands cancelled due to the HC verdict. However, the government is looking at legal options to reinstate the admissions of these students," said TP Lahane, state director, medical education and research. A revised admission schedule is expected soon.
The government is also seeking to push the deadline for PG medical and dental admissions to June 15, by which time litigations related to the newly-introduced 10% quota for economically weaker sections (EWS) should be resolved. "Considering the decision to implement EWS quota in health science courses has also been challenged in court, the government has decided to request the SC to extend the admission period," read a letter from the government to the state CET cell.
The Supreme Court on May 9 had rejected the Maharashtra government's plea and upheld the HC verdict that said reservation for Marathas wouldn't apply to PG medical and dental courses this year. The apex court set May 25 as the deadline for admissions. Following this, the state CET cell started a fresh round of admissions, cancelling the first two rounds.
Around 200 Maratha students admitted to PG dental and medical courses, and activists have demanded the state issue an order to apply the SEBC quota in this academic year. The government has said it plans to issue an ordinance that will provide for the Maratha quota being applied to these courses in the academic year 2019-20, but is waiting for the general elections to end when the model code of conduct will be lifted.
Close