Miracle! India's youngest premature baby survives after four months of medical care
Hindustan Times |
, Mumbai
Sadaguru Pandit
Sep 24, 2017 07:42 AM IST
Nirvaan will be discharged on Saturday.
The story of baby Nirvaan, the youngest baby to survive in India, was nothing short of a miracle, said doctors and parents. On Sunday, doctors, nurses and support staff of Surya Hospital in Santacruz will discharge a healthy 3.8kg Nirvaan, who was born in the 22nd week and weighed 620 grams. The survival rate among babies born before the 24th week is as low as 0.5%.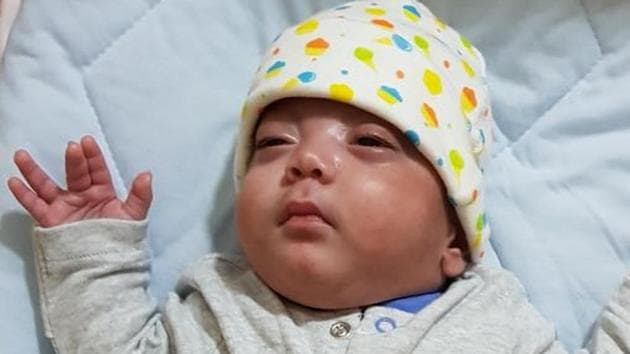 While a child born after 40 weeks of gestation is called a full-term delivery, anything below 37 weeks is a preterm child. In India, one percent babies are born before 28 weeks.
"A lot of thought was put behind his name Nirvaan, which means ultimate bliss, and that's what he is for us," said Nirvaan's mother Retika on Friday. "Despite adverse probabilities and statistics, I never had a negative vibe about him. I knew he will emerge as a winner," Retika added. Dr Sejal Desai, obstetrician and gynaecologist said, Nirvaan's journey started on May 12 when she received a call from a Bandra-based fellow doctor about an emergency. "When I heard about the patient, I told the doctor to administer a steroid injection to slow down the mother's contractions and immediately bring her to the hospital," said Dr Desai.
While Nirvaan was born through a normal delivery, he was immediately shifted to the hospital's Neonatal Intensive Care Unit (NICU) on an incubator which helped him breath for next 12 weeks.
"Nirvaan had immature lungs at birth requiring ventilator support right from the labour room. We also had to administer multiple doses of surfactant injections into the breathing tube to expand his lungs," said Dr Bhupendra Avasthi, director of Surya Child Care.
During this duration, Nirvaan survived life threatening conditions like pneumothorax (air accumulation around the lungs) and brain bleeds, but recovered successfully.
"It took us at least six weeks to see the winner and warrior in Nirvaan," said Dr Hari Balasubramanian, neonatologist.
The doctors said that the baby does not need any further medical assistance. The parents have started preparing for his birthday.