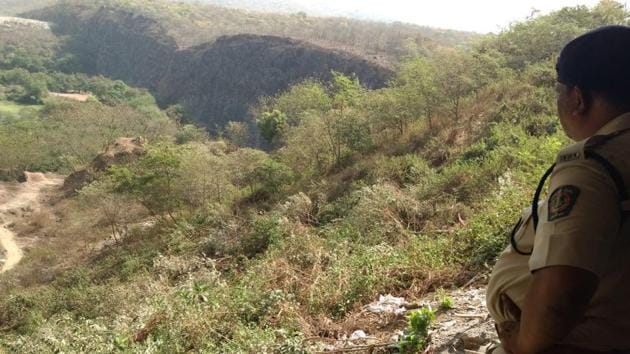 Miscreants cut trees, dump debris at Borivli national park in Mumbai; citizens alert authorities
UPDATED ON APR 16, 2018 11:49 AM IST
Alert residents living around Sanjay Gandhi National Park (SGNP) in Borivli have filed complaints with forest department about unidentified people dumping garbage and felling trees near the Borivli end of the reserved forest area.
Residents submitted to authorities videos, which they captured from their houses (see screen grab), highlighting violation of Environment Protection Act, 1986, and Indian Forest Act, 1927.
"We have been witnessing regular instances of construction and demolition waste being dumped at SGNP. The pile has even formed a hill of debris, which runs along the boundary of the park. This is illegal," said a resident, on condition of anonymity, who had also video recorded the waste from construction site being dumped, as also tree felling incident.
SGNP officials confirmed that debris have been dumped within the park premises from nearby societies. "During our inspection earlier this week, we spotted the debris, which our officials cleared," said Anwar Ahmed, chief conservator of forest, SGNP.
On Saturday, residents spotted three people hacking more than 30 trees within the forest area.
"This is being done to facilitate more space for dumping debris. The activity is being carried out in broad daylight without the fear of any authority," said Amar Patnaik, resident of Kajupada, Borivli (East).
Ahmed, however, claimed that trees were not cut.
"While I can confirm that debris was dumped in forest, there was no instance of tree felling. Only branches of the trees within reserved area were trimmed by forest department close to tiger and leopard enclosures," Ahmed said.
We will scan all edges of the park to ensure no unwanted elements destroy the peace of the forest," Ahmed said.
Patnaik said that the forest department was informed about the tree felling incident, but by the time they arrived at the site the violators had fled.
"The debris is mostly from surrounding construction sites wherein private developers are not taking the pain to transport the construction waste to the dumping ground, and instead are endangering the wildlife in this forest patch," said Patnaik.
Brihanmumbai Municipal Corporation (BMC) officials said they were unaware about the incident and that they would investigate the matter.
The 104 square kilometre SGNP is a green lung for Mumbai, which is home to a large biodiversity of flora and fauna. The growing urbanisation, rise in encroachments and human activity around the protected forest is a threat to wildlife, said forest officers.
Why should you care?
Garbage causes damage to local ecosystems, and is a threat to plant and animal life. Littering things like alcohol or plastic bottles can cause injuries to animals, and if they consume trash, it might lead to fatal diseases.
Other threats to the national park
- Encroachments around the park premises
- Debris dumping and illegal tree felling
- Illegal alcohol brewing units inside the park
- Forest fires in and around the park
- Land reclaimed for agricultural purposes without permissions
- Poaching by local tribes
- Hill cutting and blasting in the periphery of SGNP
Close