Mobile internet services suspended in Navi Mumbai, day after violent Maratha protests
Residents who contacted their service providers have been told that the service is expected to resume only by noon on Friday.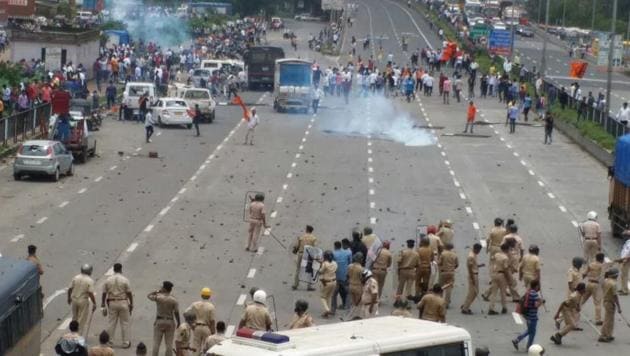 Updated on Jul 26, 2018 04:40 PM IST
Mobile internet services were suspended in Navi Mumbai around 4am on Thursday, to stop rumours related to the Maratha agitation from spreading and leading to more violence.
On Thursday, a day after violent protests, the situation in Navi Mumbai remained tense and volatile.
All nodes in Navi Numbai — Kalamboli, Kharghar, Vashi, Kopar Khairane, Panvel, Kamothe, CBD Belapur, Nerul, Sanpada and Vashi, among others — have been affected.
"Mobile internet services have been snapped off for two days at the request of the police commissioner. The decision has been taken in the wake of incidents at Kopar Khairane. However, depending on the situation, the decision to restore mobile internet services might be modified," said Tushar Doshi, deputy commissioner of police (crime) Navi Mumbai. "This is the first time that internet services have been shut down in the satellite city."
Residents who contacted their service providers were told that the service is expected to resume by noon on Friday.
Kharghar resident Pradeep Sane, 34, said: "I was trying to check news, but found that the internet was not working. Then I asked my friends who faced the same issue. Later, we got to know that services have been stopped to stop rumours."
On Wednesday, the Maratha agitation in Navi Mumbai got out of hand, with mobs torching police and private vehicles, throwing stones, stopping trains, and blocking highways, forcing the police to lathi-charge and use tear gas.
"Though I was unable to access internet here in Navi Mumbai, I could easily use mobile data after I crossed Vashi bridge and entered Mumbai," said another resident, who did not wish to be named.
Some of the service providers intimated their customers through messages. "As per government instructions, internet services have been temporarily stopped in your area because of which you are not able to use these services. You will be able to use internet services once we get directions from the government," was a message several residents received.
Rajesh Bansode, deputy commissioner of police, Navi Mumbai, said: "The government has taken a good decision by suspending mobile net services. It will help us in a big way as it will stop further circulation of rumours and so, incidents."
Broadband internet services, however, are working as usual.
Close Story