Mumbai group spends 5 Sundays clearing 1.47-lakh kg garbage from Poisar river
Updated on Jun 24, 2017 05:56 PM IST
The Mumbai volunteers said the stretch, which they cleaned, is in the periphery of the reserved forest and has more than 14,000 illegal slum structures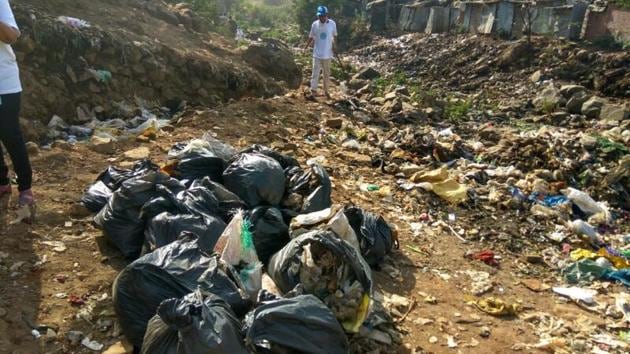 A citizens' group has taken a huge step towards reviving one of Mumbai's rivers — Poisar. River March, a group comprising more than 150 people, started a clean-up drive to free the riverbed of the filth Mumbaiites have dumped into it for years through sewage disposal.
Over five Sundays — from April 9 to April 30 — River March removed 1.47 lakh kg of garbage from a stretch of the river at Kranti Nagar in Kandivli. They used machines and also handpicked trash from areas that were out of the machines' reach. The citizens also received help from the Brihanmumbai Municipal Corporation (BMC) on the first two Sundays. "During one of our surveys, we saw that Poisar was choking with plastic and we estimated that the garbage in it could be weigh up to thousands of tonnes. We saw people living close to such filth, defecating in the open and decided to do something about it," said Tejas Shah, a member of River March. "We used all our resources to gather like-minded people and started cleaning it."
Poisar originates in the Sanjay Gandhi National Park (SGNP), passes through Kandivli and empties into the Marve creek. HT had reported last year that a study by the Environmental Policy and Research India (EPRI) had found that pollution in the river is more than 100 times the safe limit. The 'Nallah Restoration Report' by EPRI found that levels of biochemical oxygen demand (BOD) — the level of oxygen needed to sustain aquatic life – was 414.73 mg per litre at certain locations along the 7-km river. A BOD reading of more than 3mg per litre is unfit for human consumption, above 6 mg per litre is unsuitable for fish, according to Central Pollution Control Board.
The volunteers said the stretch, which they cleaned is in the periphery of the reserved forest and has over 14,000 illegal slum structures. "BMC or forest department's inaction have let these slums come up. Now, they are dumping domestic waste right into Poisar as they do not have a sewage line," said Shah.
The volunteers said they were shocked by the amount of trash in the river. "It seemed like a daunting task. But after chalking out a plan, we managed to succeed," said Sagar Vira, a resident of Kandivli. "Once we cleaned the surface, we realised the trash was stuck even in the deeper ends of the river. We gave it our all when by putting our hands deep into the dirty water to take out every piece of plastic that choked it."
He added that the fear of contracting diseases haunted them throughout the process. "We had to overcome the unbearable stench but since we had gloves and masks, not one person in the group contracted any disease," said Vira.
Borivli resident Gopal Jhaveri said the BMC sent five workers to help us on the first and second Sunday of the drive and a dredging machine was sent on one Sunday. The BMC contractor, workers or machines, were not there to support them in their endeavours. "It is sad that while the Prime Minister elaborates on his ambition of Swacch Bharat, the civic body fails to implement it on ground," he said while adding that the group wrote to the PM highlighting the issue.
"Our drive has just begun and we will continue organising awareness programmes and clean-up drives until all four water bodies in Mumbai regain the status of rivers from nullahs," he said.
Personalise your news feed. Follow trending topics