NEET registrations to end today; future of health science aspirants from Urdu-medium colleges uncertain
Last week, the Supreme Court refused to hear an urgency motion filed by SIO, pleading with the court to include Urdu as a language in which students can appear for NEET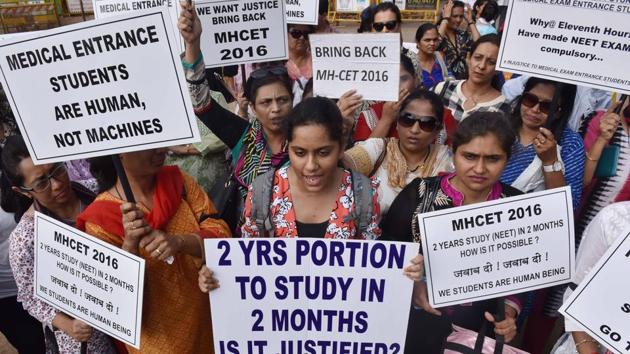 Updated on Mar 02, 2017 09:21 AM IST
Registrations for the National Eligibility-cum-Entrance Test (NEET) 2017 end today — March 1 — though the ambiguity over whether health science aspirants from Urdu-medium junior colleges can sign up remains unaddressed.
Members of the Students Islamic Organisation (SIO) had requested the Central Board of Secondary Education (CBSE) and the Medical Council of India (MCI) to postpone the deadline for NEET registrations by a few days, to accommodate students from Urdu-medium junior colleges. The fate of these students hangs on a petition, which the Supreme Court will hear on March 3.
Last week, the Supreme Court refused to hear an urgency motion filed by SIO, pleading with the court to include Urdu as a language in which students can appear for NEET.
"The CBSE has excluded Urdu from NEET. The Maharashtra state board, too, will not conduct a separate medical entrance test for courses other than medical and dentistry. This means students from Urdu-medium junior colleges cannot apply for health science courses," said Mohammed Ali Shaikh, representing SIO, Maharashtra south.
Close to 40,000 students from more than 168 Urdu-medium junior colleges in the state, as well as more from Uttar Pradesh and Telangana have joined the fight for their rights. "We hope that the CBSE announces an extension of the registration date today. Otherwise, all our students will be forced to appear for the exam in English or Hindi, which is unfair," added Shaikh.
Lack of inclusivity plagues exam
Initially, the CBSE made it clear that NEET 2017 would be held in eight languages, including English. However, it added two more languages to this list in the last week of January. The exam will be held in English, Hindi, Marathi, Gujarati, Tamil, Telugu, Assamese, Bengali, Kannada and Oriya. However, despite repeated requests by the SIO, as well as other state government officials, Urdu was not included in this list. Officials said one of the reasons why several regional languages were not included was because the study material — based on NCERT syllabus — was only available in English and Hindi. SIO, however, is still demanding that Urdu-medium students get a fair chance to appear for the exam.
Read
Shift NEET registration dates so that SC can hear plea to include Urdu tests: Students
Supreme Court refuses urgent hearing on plea to conduct NEET exam in Urdu
Close Story