Traffic movement across Mumbai Metropolitan Region will be seamless soon, promises CM
At a public meeting in Airoli, Chief Minister Devendra Fadnavis spoke about the plan for public transport, traffic reduction and metro projects.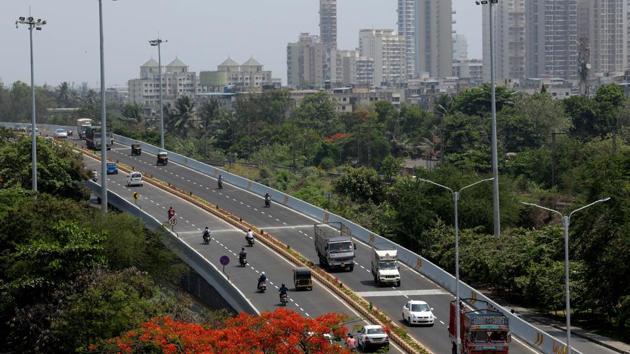 Updated on May 22, 2018 11:30 AM IST
Hindustan Times |
, Navi Mumbai
G Mohiuddin Jeddy
Chief Minister Devendra Fadnavis has said that his government is aiming at seamless connectivity throughout the MMR region and the projects taken up will ensure this becomes a reality in the next few years. He asked that infrastructure work be speeded up, stating that flyovers should be constructed within 12 months.
Fadnavis held a public meeting at Airoli following the inauguration of the Ghansoli-Talavli flyover, the underpass at Mahape and the flyover near Savita Chemical on the Thane Belapur (TB) road. He also performed the bhoomi pujan of the elevated road and tunnel that will connect TB road and NH4 - Katai Naka (Kalyan); and the rail over bridge at Kopri in Thane.
"Once you reach Thane, traffic jams at Kopri have been a major problem for years. It is one of the busiest areas of the MMR region. The bridge was long required and follow-up was done over the past several years, unfortunately it work did not happen earlier," said Fadnavis, who is also chairman of the MMRDA.
"When our government came, we coordinated with railways and found a way out for seamless traffic through the Kopri rail-over bridge. It involves pulling down the old bridge and taking up new bridge work. Once the work is complete, it will be smooth sailing in the area," he added.
Commenting on the work being done by MMRDA, the CM said, "We have taken up a number of infrastructure projects. I have always believed that the MMRDA can make a big difference. Simply having a fixed deposit in the bank won't help and so ₹1.5 lakh worth of projects have been taken up through MMRDA in the MMR region."
Fadnavis said that the development body has executed plans for smooth traffic in the past three years and the work can be seen all over. "Several under passes, roads, link roads, flyovers and the 22-km MTHL sealink the have been taken up," he said.
He added that work on the 258 km-long metro network has also been planned and is expected to be completed in two to three years. "We are also working on integration of metro, mono rail, railway and bus services so that one ticket will ensure seamless connectivity for people on all modes of transport," he added.
Speaking about a water transport network, the chief minister mentioned plans to start a roll-on/roll-off (RoRo) service from Mumbai soon.
"Thane too will be connected through water transport with Vasai and Virar. The Thane commissioner has prepared a plan which has been approved by central minister Nitin Gadkari."
Assurance on PAP houses
Fadnavis offered Navi Mumbai PAPs assurances regarding their illegal need-based constructions, which Cidco has stated will not be regularised. "We have taken a decision on regularization. I have been told that there are some problems with it. I assure MLA Manda Mhatre that we will resolve them. She need not worry," he said.
Navi Mumbai to Kalyan in 15 mins – MMRDA commissioner
MMRDA commissioner RA Rajeev gave details of the various ongoing MMRDA projects and the metro plans. "The Airoli-Kalyan elevated road project and tunnel connecting Thane Belapur road to NH4 will bring down the travel time from Navi Mumbai to Kalyan from the existing 40 mins to just 15 mins. The Unnat Marg project will cost ₹382 crore and will have three lanes on each side. The tunnel will have four lanes."
The project is expected to be completed by 2022 and will cater to 1 lakh vehicles daily," he added.
Close Story