No prayer goes to waste at this temple in Mumbai
The temple in Ghatkopar, where flowers offered by devotees, among other items, are processed in the machine daily, has now produced its first batch of manure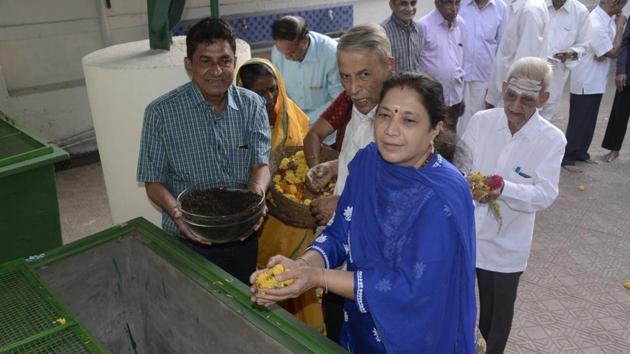 Updated on Mar 18, 2019 09:07 AM IST
Hindustan Times |
, Mumbai
Yesha Kotak
Around three years after Bhajan Samaj, a temple in Ghatkopar, installed solar panels, a composting machine was inaugurated on its premises recently. The temple, where flowers offered by devotees, among other items, are processed in the machine daily, has now produced its first batch of manure.
The composting machine, which has two iron tanks with a capacity of 100kg each, generates around 450kg of compost every month. The temple uses it to maintain a nearby garden.
Hari Iyer, honorary secretary of the temple, said the idea to install a composting system came up because the flowers that were offered in the temple were being dumped in public garbage bins.
"Our management was coming up with different initiatives for the well-being of the community and to install green measures in our premises was one of the agendas. In fact, we also were the first temple in the city to install a solar panel," said Iyer.
Though the capacity of the machine is 200kg, around 25kg of flower waste is collected at the temple and processed in the machine every day. The management also plans to install a coconut-processing unit, where coconuts offered in the temple can be processed before they can be put in the composting machine.
"We would also like to install rainwater harvesting before the onset of monsoon and reserve a portion of our garden for growing organic vegetables," said Iyer.
TN Balasubramanian, vice-president of the temple, said the first batch of manure that the machine generated is more than the amount they require for the garden and they would sell the excess manure to devotees.
On the other hand, the solar panels with a capacity of 7KW, which were installed in 2015 at a cost of ₹7.5 lakh, generate around 24 units of electricity a day and have brought down the electricity bills of the temple by around 50%, temple authorities said.
"It was with the help of corporate funding that we managed to install these machines in the temple premises. But, the intention of installing these was that if people see a temple is using green measures, other temples will replicate a similar model," said Lalitha Balasubramanian, member of the temple association and head of social initiatives.
Close Story