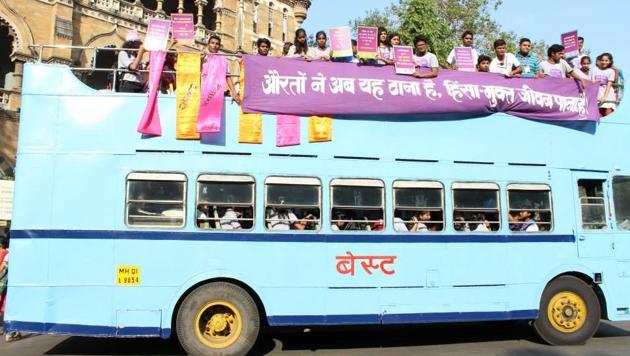 Non-profit organisation plans 7-km night run to reclaim spaces for women
Registration for the run is open to all
UPDATED ON DEC 30, 2016 12:15 AM IST
How would you like to combine an easy run with a worthy cause and a midnight adventure?
Akshara, a not-for-profit women's organisation, has tied up with Hindustan Times and fitness mobile app company UActiv to conduct a 7-km night run on January 7, at Bandra-Kurla Complex.
Called Urban Feet – Run for Women's Safety, the aim is to demand safe access for women to public spaces and promote the idea that they should be free to loiter or reclaim the night as they please.
Registration for the run is open to all; 60 women and girls from within the NGO's ranks with be participating too.
"It is important for women to reclaim the night," says co-director of Akshara, Nandita Shah. "It is sad that we've come to a point where we need to remind ourselves, first, that the streets are ours as much, and second, that public spaces should be equally accessible to both at any time of day."
As a cause that has been consistently overlooked, Aatish Chhabria, co-founder of UActiv says, "Nights have become synonymous with women feeling insecure and this is our bit to promote equality in our city and the country."
Akshara and HT have been consistently campaigning for women's safety since the Make Mumbai Safer for Women series of 2011, which included a comprehensive survey of sexual harassment of women in public spaces. Of the 4,225 women interviewed, 43% perceived skywalks to be unsafe, while 46% said they had been sexually harassed inside buses. Another 21% said stalking was a concern.
Four round-table discussions followed the findings, as HT and Akshara sought to frame solutions and ways forward.
Following the Shakti Mill gang rape case in 2013, HT and Akshara conducted a safety audit that covered streets and railway stations, parks and playgrounds, exploring why women feel unsafe in public spaces in Mumbai.
Nearly 30,000 people then signed an online petition calling for well-lit parks and railway stations, opening up of police chowkies in areas where they had shut down and reconstruction of public toilets, among other women-friendly measures, which Akshara along with other women's organisations submitted to the chief minister in 2013. Some of these changes were effected in parts, but much more needs to be done. And you can lend a hand, be heard, by running at midnight in the first week of the new year.
What: Urban Feet, a 7-km night run to help women reclaim the streets, and the night
Where: Bandra-Kurla Complex
When: January 7, 11 pm to 2 am
Registration is open to all and costs Rs 600 per person.
For details, go to bit.ly/2hvHpvD or register online at bit.ly/2iHCyVY
Read
'Women must break tech barriers, join engineering'
Sexual harassment rampant at train stations in Mumbai, reveals Akshara survey
Close