'Blue dog' in Mumbai suburb goes blind, SPCA to treat it, run tests on others
So far, Mumbai veterinarians have rounded up one of the five blue dogs spotted. They plan to rescue, treat and release the rest soon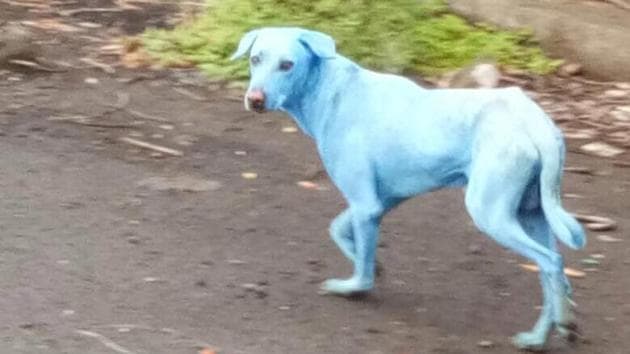 Updated on Aug 17, 2017 01:29 PM IST
Hindustan Times | By G Mohiuddin Jeddy
, Taloja
Following reports that dogs in the Taloja industrial area were turning blue owing to dye being dumped into the Kasadi river, the Thane Society for the Prevention of Cruelty to Animals (SPCA) will now treat them.
So far, the veterinarians have rounded up one of the five blue dogs spotted. They plan to rescue, treat and release the rest soon.
SPCA members said they decided to act after receiving complaints from animal lovers.
"We picked up this dog first as it has gone blind owing to the dye. It will now have to undergo a blood test as this will help us understand how the chemicals in the river have affected it," said Dr Sanjay Jadhav, an SPCA member.
SPCA has been running an animal shelter for the past 15 years at Brahmand in Thane. "Once the strays are treated, we will release them in the same area from where they were rounded up," he added.
Close Story