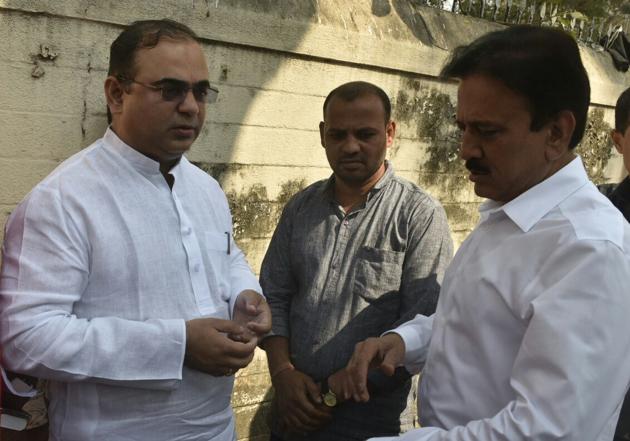 Opposition calls Maharashtra farmer's death a murder, slams BJP-led state government
Leaders allege that land acquisition in Dhule district is mired in a huge scam
UPDATED ON JAN 29, 2018 04:49 PM IST
The death of an 84-year-old farmer from Dhule, Dharma Patil, acquired a strong political hue on Monday as Opposition parties in Maharashtra slammed the state government for his death and called it murder.
Opposition leaders on Monday called it murder by government apathy and demanded that bureaucrats and ministers responsible be booked for murder under section 302 of the Indian Penal Code.
A week ago, on January 22, Patil had attempted suicide by drinking a poisonous chemical outside Mantralaya as a protest against the inadequate compensation given for land acquired by the government for a power project in Dhule. Patil died at Mumbai's JJ hospital late on Sunday.
Political parties alleged that state tourism minister and guardian minister of Dhule Jaykumar Rawal has been acquiring farmers' lands illegally ever since the state began its land acquisition process, so as to make money. "Rawal and his companies have been buying land illegally from farmers at low prices so that they can claim compensation from the government at much higher rates. This is an unpardonable offence, and the minister should be booked for criminal offence," said Nationalist Congress Party (NCP) leader and spokesperson Nawab Malik.
Leader of Opposition in the legislative council Dhananjay Munde and state Congress chief Ashok Chavan alleged that land acquisition in the district is mired in a huge scam. "Buying land at a cheap price and delaying the land acquisition process so that middlemen and politically influential people get time to buy the land at low rate have been the modus operandi in the past few years," Chavan said. "This issue needs to be investigated thoroughly."
"The state government is solely responsible for his death," Munde said.
The BJP-led Maharashtra government has announced that the revaluation of land owned by Patil, would be completed in 30 days. State energy minister Chandrashekhar Bawankule said that after the land is revaluated, adequate compensation will be given to the deceased's family.
Patil's son Narendra, who has refused to accept his body until compensation due for their land is given and his father is declared a martyr, is sitting in protest outside JJ hospital.
Close