Sharad Pawar leads march against BJP govt as opposition parties unite in Mumbai
Updated on Jan 28, 2018 12:27 AM IST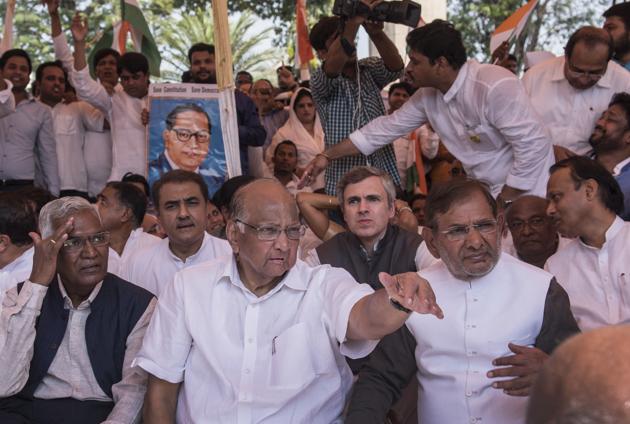 With opposition leaders taking to the streets in Mumbai on Republic Day, there is an increasing chorus to form an anti-Bharatiya Janata Party (BJP) alliance during the Maharashtra Assembly polls in 2019.
Nationalist Congress Party (NCP) chief Sharad Pawar on Friday led a march to 'save the Constitution', which he said is under 'attack'.
The Congress and the NCP are looking to take smaller "like-minded" parties on board before the Assembly polls, expected to be held in the second half of 2019 or along with the Lok Sabha elections early in 2019.
Leaders of the Congress, NCP, Samajwadi Party and Left parties are scheduled to meet again in New Delhi on Monday to draw up a strategy for the 2019 Lok Sabha elections.
Sunil Tatkare, state chief of the NCP, said his party and Congress will meet in February to discuss the roadmap for the Maharashtra election. "We are exploring the option of coming together. In fact, the state leadership of both the parties (NCP and Congress) is meeting on February 6 to discuss the plan for Maharashtra. A pre-poll alliance is on the agenda because it is key to take on the current government," Tatkare said.
The Congress and the NCP contested against each other in the 1999 state Assembly elections and entered into a post-poll alliance to form the Democratic Front government, which ruled the state for 15 years until October 2014.
"Issues have been sorted out and a pre-poll alliance is on the cards. The sense we get from the cadre of both parties is that there should be a pre-poll alliance," said Radhakrishna Vikhe Patil, senior Congress leader and leader of the Opposition in state Assembly.
Meanwhile, smaller parties such as the Peasants and Workers Party of India, Samajwadi Party, Janata Dal (S) and Swabhimani Paksha are likely to join hands with a non-BJP front, preventing a split in Opposition votes. "Though we have not discussed any alliance so far, we feel that non-BJP parties should come together to root out the saffron party," said Samajwadi Party leader Abu Azmi.
As the Ramdas Athawale-led Republican Party of India continues to be a constituent of the BJP-led National Democratic Alliance, the Opposition may approach Bharatiya Republican Paksha-Bahujan Mahasangh chief Prakash Ambedkar, who has emerged a political force in the aftermath of the Bhima-Koregaon incident in the state.
Recently, BJP's ally in the state, Shiv Sena, decided to contest solo in the upcoming elections. "Their core agenda (Sena and BJP) is Hindutva. If Sena contests alone, it will definitely help the Opposition," Vikhe Patil said.
Prakash Bal, a political analyst, said, "In the state, there is an awareness that a fractured Opposition will not help. It would be a three-cornered contest. With the Sena contesting alone, BJP may get fewer seats in the next elections."