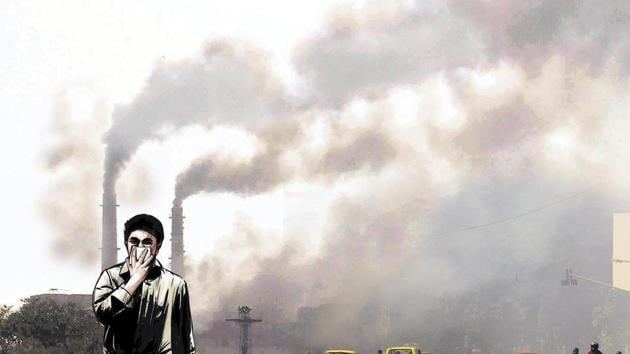 Shrug off disbelief, rise to clear the Mumbai air
The World Health Organisation's rankings showed Mumbai is the fourth most polluted megacity in the world.
Hindustan Times | By Ayaz Memon
PUBLISHED ON MAY 03, 2018 10:53 PM IST
The few people I have spoken to since the newest rankings of the world's most polluted megacities was revealed by the World Health Organisation the other day have expressed surprise or scepticism that Mumbai features on number 4.
"I know we have pollution issues, but it surely can't be that bad,'' said one with nonchalance. "Arre bhai, we wouldn't be walking, working, leading our lives normally if the situation was that dire,'' said another disdainfully.
Data pertaining to the environment, and more particularly when linked to matters of health or sustainability often has the same effect on people seemingly in the pink when they read an adverse medical report about themselves. Initial reactions in such cases are usually of incredulity because the situation has changed dramatically, without any great advance warning threatening to override the thresholds of (false) security that may have been built up over the years.
"How is this possible? I am in fine shape, there is nothing wrong with me. Just this morning I jogged/walked 5kms without even breaking into a sweat. Maybe the lab I went to is sub-standard, perhaps the readings haven't been collated well…''
After a series of further tests confirm the original findings, however, reality sinks in, disbelief gives way to dismay. What could have possibly gone wrong, where were mistakes made, what precautions that were so easy to establish but were ignored start plaguing the mind.
An environmental concern may not be as immediately alarming as personal health predicaments. But I've used the analogy to highlight that misplaced bravado and procrastination at redeeming the situation, in both cases, can be hugely detrimental. The primary issue is to understand is why Mumbai figures so high in the WHO list of polluted megacities. This is obviously not a yesterday or today matter, but something that has built up over several years, even decades.
Mumbai was always vulnerable to the hazards of pollution. People of my vintage will remember their parents and elders taking them away from the city for 'clean air', to sanatoriums or hotels in hill stations like Khandala, Panchgani, Mahableshwar, etc.
Earlier, the biggest source of pollution used to be the mills that dotted the city, at Parel and adjoining areas in mid-town, or public sector industries near Chembur, Mankhurd, etc.
Those who lived in South or North Mumbai felt themselves relatively secure from this. Today, pollution is spread uniformly across the length and breadth of Mumbai.
It is a linear city, flush with skyscrapers, high population density, teeming with vehicles that belch out carbon dioxide non-stop. There is no escape wherever you live.
How does one know the quality of the air we breathe? You actually don't need a lab test for this. Anybody can feel the difference in the air one inhales even at the furthest end of South Mumbai – considered least polluted – and in the heart of say even Navi Mumbai. But how bad is the situation really? Some experts find the WHO report contentious. The System of Air Quality Weather Forecasting and Research (SAFAR), that measures AQI (air quality index) for cities like Delhi, Mumbai, Pune and Ahmadabad argues that the WHO report is based on 'single station data', usually a traffic junction, and could therefore be misleading.
This argument is not misplaced. Changed parameters may throw up different findings. What's pertinent, however, is whether the difference is so stark as to negate the problem entirely. I doubt It very much. A changed measure system may show Mumbai at number 8 or 10 among most polluted cities, not take it off the list entirely.
By the way, while Mumbai comes in at number 4 in the WHO list, Delhi has been rated as the most polluted megacity in the world. Further, India has 14 out of the 15 most polluted cities in terms of PM 2.5 concentrations according to the findings.
This shows that apathy about the environment is a national malaise. The good news, though, is that the situation is not irrevocable. Beijing for instance, which was top of the WHO list some years back, is now down to number 5. Intervention by authorities and people can make the difference. Whether Mumbai is ranked 4 or a couple of places lower or higher is not germane to the issue. What matters is acknowledging the problem and showing the will to solve it.
Close