South Mumbai society recycles 90% of its waste, thanks to this teen environment crusader
Updated on Nov 26, 2018 12:16 AM IST
Aarushi Majumder's society in Prabhadevi, installed 12 wet-waste composters last year which generate 8.6 tonnes of organic compost every month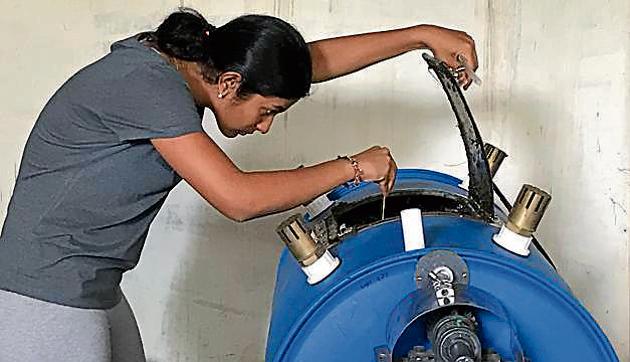 Hindustan Times |
, Mumbai
Shweta Verhani
Seventeen-year-old Aarushi Majumder's friends and neighbours call her a "green warrior." She earned the sobriquet from them after she convinced her society to adopt environment-friendly means of waste management.
Majumder's society, Sumer Trinity Towers in Prabhadevi, installed 12 wet-waste composters last year which generate 8.6 tonnes of organic compost every month. 200kgs of the dry waste generated in the society is sold to recyclers every month and all the tetra packs are reused to make benches and window frames, which are later given to those who cannot afford them.
Today, her society recycles 90% of their waste. The wet waste that is generated is converted into organic compost and is used in their organic garden where spinach, cauliflowers, mint, ladyfingers and lemongrass are grown and sold to the residents. The vegetable garden patch aids food security, and makes locally grown food available. The garden patch aids climate change adaptation by releasing oxygen into environment.
This form of circular economy is highly sustainable and is a holistic solution to waste management. It not just results in waste management but also aids land remediation by replenishing nutrients back to soil, mitigates greenhouse gas emissions generated due to transportation of waste from source to landfills.
A Class 12 student at Dhirubhai Ambani International School, Bandra (East), Majumder said she developed a passion to conserve the environment when she was 12 years old. She started to work in the direction and two years ago, conducted waste audit surveys in her society. Based on the survey, she drew up standardised waste management plans and implemented them. She also conducted field tests to monitor the pH levels in the soil and temperature during various stages of composting that helped in gathering scientific data on the waste management process.
Dr. Aparna Pandey, senior research and development associate, RUR Greenlife, a waste management service in Mumbai, said, "Majumder's interest and effort in the project has been commendable in terms of scientific monitoring and sensitisation of residents and staff about waste management. She is a living example of an eco-conscious Mumbaiite."
Aarushi is now working on a robot for the wet waste composters.
"I am creating a robot that will measure temperature, humidity and other parameters inside the compost bin, and transmit the information to a centralised database."
Majumder has also been making regular visits to Dharavi slums since 2013 to educate children on environment and is raising money for children's education. Earlier the children did attend the teaching sessions regularly because they had chores at home and outside; hence, in order to make persuade them to attend classes regularly, Majumder held three musical fundraisers in her society and collected ₹12 lakh for the children's education.
"The money is being used to provide meals to those who attend the classes. Due to this provision, children attend my classes regularly," she said.
Read more: 12-storey housing complex in Mumbai's Kalyan goes solar, eyes 70% cut in power bill
Personalise your news feed. Follow trending topics