Thane locals remind Sena-BJP of its pre-poll promise to do away with toll
Since the monsoon started, commuters have been complaining of bad roads and traffic congestion every day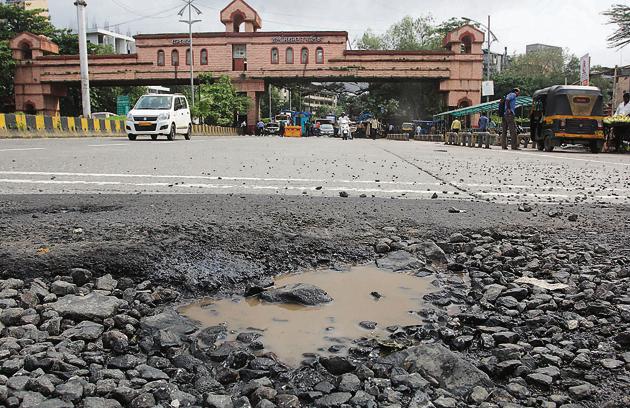 Published on Jul 19, 2018 12:53 AM IST
As the number of potholes continues to grow with each passing day, residents asked the state to justify collection from motorists entering Thane city. Residents said despite paying taxes, they are forced to put up with bad roads. They also urged the state to stick to its pre-poll promise of toll waiver.
Since the monsoon started, commuters have been complaining of bad roads and traffic congestion every day. Several residents complained that owing to bad roads and traffic, their routine journey now takes twice the time.
Those travelling outside or entering the city pay toll Anandnagar and Modela nakas. Motorists complained that the before and after the toll plaza is riddled with potholes.
Radhika Kamath, 49, a chartered accountant residing along Pokharan Road, said, "The BJP had promised to scrap toll collection if it comes to power in the state. However, the promise is yet to be unfulfilled. The roads in the city, near the toll plazas are in pathetic condition. But we are still forced to pay toll for maintaining them. We spend around two-and-half-hours commuting one way every day. The five hours wasted on commuting could be more productive. Despite taking money, toll operators do not implement ETC tags in all the lanes, only two lanes are reserved for the vehicles with tag."
She added the person who has the tag ends up in the longest queue. The traffic which starts from Korum Mall stretches all the way till Anandnagar check naka.
HR professional Ajit Singh, 43, another resident of Pokharan Road, said, "The problem is on the 100 metre stretch before and after the toll naka. It takes over 30 minutes to cover a one minute stretch. Travelling to Mumbai and back saps the entire energy. Lakhs of motorists pass through the toll plazas every day, paying ₹70 for two-way commute. Despite making so much money, why are the roads so bad?"
Singh said whenever toll operators are short-staffed they shut down several lanes creating traffic congestion.
Vasant Vihar resident, Nilesh Dixit, an entrepreneur, said, "How can the government justify collection of toll when they cannot even maintain roads for which we are paying toll? You'll reaches faster to Thane from CSMT if you travel by train, as compared to time it takes to travel between Thane and Mulund by road."
Expert committee to take call: PWD minister
In 2016, PWD minister Eknath Shinde had announced that vehicles at toll plazas will be allowed to pass through without paying toll if the vehicles cross the yellow line. However, toll operators are yet to abide by it.
Last week, the issue of traffic congestion at toll nakas at yellow line was taken up for discussion during the monsoon session of the assembly. Shinde told the house, "A committee of experts from IIT-Bombay and other institutes was set up in the month of April to study the traffic congestion at toll nakas and the yellow line diktat. The committee will submit its report in six months. Based on the report and the clauses in the toll agreements, our legal experts will give their opinion following action will be taken."
Close Story