Thane police bust cryptocurrency scam worth hundreds of crores
Jun 05, 2018 01:22 AM IST
The crime branch in Thane on Monday busted what is alleged to be a multi-hundred crore cryptocurrency scam that operated for two years under the guise of a real estate firm.
The crime branch in Thane on Monday busted what is alleged to be a multi-hundred crore cryptocurrency scam that operated for two years under the guise of a real estate firm.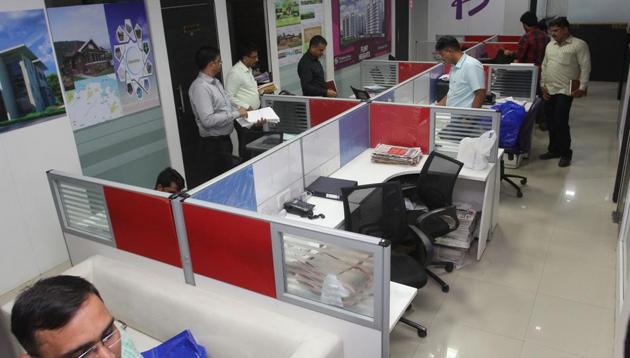 A senior police officer from the Thane crime branch told HT that during the raid, investigators found another office in Vikhroli from where the scam was run, and that some police personnel were allegedly involved in the racket and their roles are being probed.
The scam was devised by The Flintstone Group, an alleged real estate company, that promised its investors not only flats, but citizenship in African and Caribbean countries where, it said, their cryptocurrency would be legal tender in a few years. Flintstone Group's cryptocurrency was called MoneyTradeCoin (MTC), and was used as bait for investors to put in more money with the lure of high returns and international citizenship.
The total value of money invested by gullible investors ran into hundreds of crores, police said on Monday. Yesterday's raids and subsequent detentions were the result of a complaint by a Thane businessman who claimed that he and five of his colleagues had invested ₹1.7 crore in MTC, but had not received any feedback from Flintstone officials even after the promised date.
A cryptocurrency is a complex, decentralised digital asset that is operated using what is called blockchain technology. Unlike regular currency, there is no regulator or any control over the value of cryptocurrency.
The first such currency was Bitcoin released in 2009, and since then, there are over 4000 cryptocurrencies available for trade online. They are legal in some countries, but not in India.
The police detained two people on Monday, while the mastermind of the alleged scam – Flintstone Group managing director Amit Lakhanpal – is reportedly absconding. Police say he may have left the country a few days ago fearing legal action.
A police officer said Lakhanpal's office had several photos of him posing with leading political personalities in order to impress his prospective clients. "He may have even invested in a Bollywood film featuring a major male star, but we are verifying this," he said.
According the Lakhanpal's website, "MoneyTrade Coin is an intellectual property jointly owned by Dubai based firm Bitcoin Global FZE, UAE and Money Trade Coin Ltd, UK. Mr. Amit M. Lakhanpal, is the Director of Money Trade Coin Ltd (and is one of the key members of Bitcoin Global FZE and MD of Flintstone Group, India)."
Flintstone's Thane office had 20 employees, while the Vikhroli firm had 50. A senior police officer from Thane crime branch unit 1 said, "Employees here were using MTC. Pal and his associates promised investors a 20-times return on investment in a mere six months. But once the deadline passed, the company made several excused to not release the money."
The officer added, "A few days ago, some investors even went to Dubai to meet Lakhanpal, but they were allegedly threatened, and were told that they should not ask for their money. We also found that Lakhanpal had never constructed any building, even though he claimed to run a real estate company."
The police have registered a case under several sections of Indian Penal Code, Maharashtra Protection of Investors and Depositors (MPID) Act, and the Chit Fund Act
"Exciting news! Hindustan Times is now on WhatsApp Channels
Subscribe today by clicking the link and stay updated with the latest news!"
Click here!