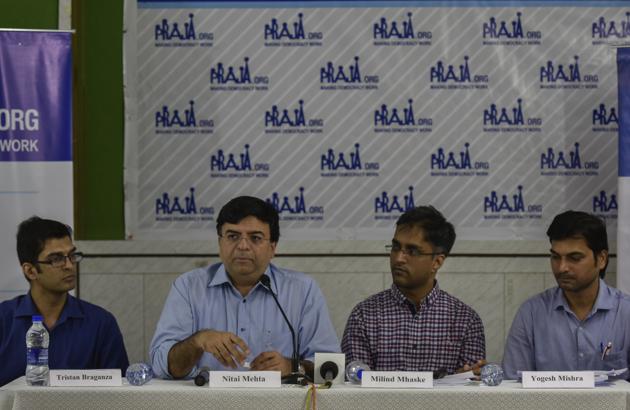 Three in every four Mumbai families don't have medical insurance, says study
Blames lack of primary health care facilities for the rise in medical expenses
Hindustan Times | By Sadaguru Pandit
, Mumbai
UPDATED ON SEP 07, 2018 01:18 AM IST
The State of Health in Mumbai, released on Thursday, said that on an average, a family in the city spends 9.1% of their income on health care. Attributing the high cost to lack of primary health care facilities, the study said Mumbai has only one dispensary for 41,139 people, against the National Urban Health Mission (NUHM)'s guideline of one dispensary per 15,000 people. The report used data for 2017-18 and 2016-17 collected through a survey commissioned to Hansa research Foundation and information collected through Right To Information (RTI) queries.
There are currently 186 government dispensaries across the city. Researchers said with the current rate of 84,297 people per dispensary in suburban areas and 66,894 people per dispensary, there is a need for 830 dispensaries.
The report said the estimated annual expenditure on health per household has increased to 9.1% (₹87,513) in 2016-17 from 8.4% (₹68,276) in 2014-15. Across socio-economic classes, the percentage of people who don't have medical insurance kept dwindling, with an average of 76%.
"Inadequacy of primary health care infrastructure and burden of health care on annual income are interlinked," said Nitai Mehta, managing trustee, Praja Foundation.
"This is appalling, given that the government has been shifting its focus from a supply-driven health service to insurance-based health subsidies," said Milind Mhaske, member of Praja Foundation.
Among the worst-hit municipal wards were P-South (Goregaon West) had one dispensary for 2,31,754 people, R South (Kandivli West) had one dispensary for 1,15,205 people and T (Mulund West) had one dispensary for 1,13,821 people.
"With lack of access to a robust health surveillance data, gaps in basic primary health care infrastructure are the key responsibility of elected representatives," Mehta said.
Izdes Kundan, additional municipal commissioner (health) said that they want to improve the primary health care sector in the city. "We have been working on strengthening primary health care, where we can also offer laboratory diagnostic services. Once the projects that are underway are completed, the burden of tertiary care facilities will automatically decrease and so will the expenditure," said Kundan.
Close