Timber mafia strikes near Mumbai; Rs2-cr teak seized in 11 months
Mar 30, 2018 12:18 AM IST
The latest seizure was reported from a private plot near Borivli-Padgha village in Bhiwandi taluka of Thane district on Saturday.
The forest department has registered over 20 cases of teak smuggling in and around the city since May, 2017, where around 500 tonnes of illegally cut teak, worth around Rs2 crore were seized in 11 months.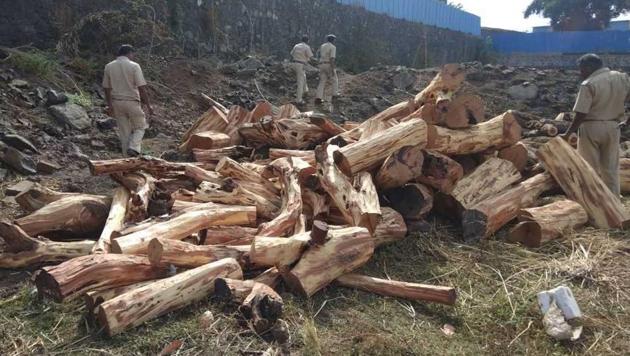 The latest seizure was reported from a private plot near Borivli-Padgha village in Bhiwandi taluka of Thane district on Saturday. Acting on a tip-off, 250 forest and police personnel busted a smuggling operation where 60 tonnes of wood – 30 tonnes of teak and 30 tonnes of khair (Acacia catechu) – was seized. The land owner of the plot has been booked.
Stay tuned with breaking news on HT Channel on Facebook.
Join Now
"Investigations are underway to arrest him and others involved from local villages such as Borivli, Rahur and the Padgha town as no one was at the spot when it was raided," said Jitendra Ramgaokar, deputy conservator of forest, Thane, who led the operation. "We also shut down a saw mill illegally functioning in the area, which was helping the group in storing the timber."
Teak and khair are among the 15 species protected under the Maharashtra Felling of Trees (Regulation) Act, 1964. Felling of these trees in private areas without the permission of the local municipal corporation tree officer, the range forest officer, or the transportation of wood without permission from the assistant conservator of forest, is illegal and a violation of the act.
In cities, teak and other timber is imported legally from Panama, Brazil, Ghana, Ecuador and many other cities. "Most of the demand is met by this timber. However, we have witnessed a surge in cases where teak and khair are illegally felled locally, brought to cities and sold at high prices. This plays a significant role in destroying the ecosystem. There exists a timber mafia, which is operating from villages around Padgha, and the crackdown on this massive organised crime is underway," said Ramgaokar.
Thane forest officers said they had witnessed a spike in illegal seizures after shutting down all depots that saw transportation of the timber for sale in cities. "The seized timber is declared as government property, and later auctioned off like sand or other mining minerals," said Ramgaokar.
Officials involved in the latest crackdown said residents of these villages were also involved in other criminal activities. "This timber trade has increased over the past year after forest officials have made it difficult for the depots to operate. However, there is need for more manpower from the forest department to control such activities as it is only going to increase," said Dr Mahesh Patil, superintendent of police, Thane rural, adding that the location where the crackdown was done had depots in the past but were shut down in early 2017.
A senior official from the state government, on the condition of anonymity, said timber in Maharashtra was sourced from - north of the Thane district, Nashik, Sindhudurg, Raigad, Gadchiroli, and other areas along the Karnataka border. "From here, the timber is illegally transported to remote parts of Ratnagiri and Chiplun, where depots still exist. The mafia also purchase them during auctions and bring them back to the illegal market," he said.