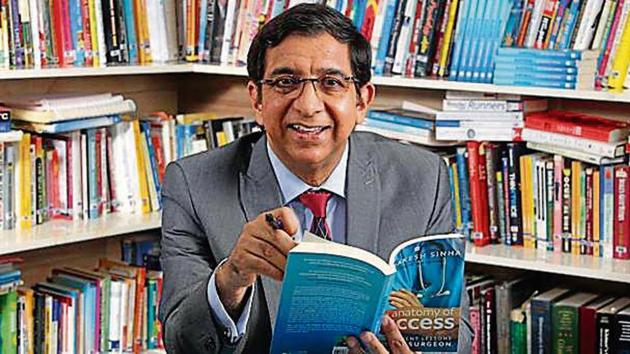 Training for marathon, top doc suffers heart attack, dies
Dr Sinha, who had never displayed any past symptoms of heart ailments, owing to his healthy lifestyle, possibly suffered a myocardial infraction
Hindustan Times | By Sadaguru Pandit
, Mumbai
PUBLISHED ON DEC 26, 2016 11:57 PM IST
Dr Rakesh Sinha, a pioneer of laparoscopic gynaecology in India, succumbed to a heart attack on Monday morning during a walk at Bandra. Dr Sinha collapsed while he was preparing for the Mumbai Marathon 2016 and was declared dead at Holy Family Hospital, Bandra at 9.30am. He is survived by a son, daughter and his wife - all three are doctors.
His friend and former classmate, Dr Arshad Ghulam Mohammad, a Bandra-based surgeon said the 60-year-old was a multifaceted figure in the medical field and was known for his motivational speeches and his love of physical exercise.
"We completed our graduation and post-graduation together. He was really a renowned figure in the field of laparoscopic gynecology and robotic surgeries. We used to meet almost daily during our morning walks," said Dr Ghulam.
He added that Dr Sinha, who had never displayed any past symptoms of heart ailments, owing to his healthy lifestyle, possibly suffered a myocardial infraction (MI).
"He had completed four marathons till date and was extremely fit even at 60. But, he suddenly fell unconscious while running and was declared dead at the hospital. It is very unfortunate. This comes as a loss to the medical fraternity," said Dr Ghulam.
In a career spanning more than two decades, Dr Sinha has been a president of Indian Association of Gynecological Endoscopists (IAGE) and was a board member of the International society of gynaecological endoscopists. Having done his Masters in Gynaecology from the Mumbai University, he attained a diploma in gynecological endoscopy from the Christian Albrechts University of Kiel, Germany. Later, he was awarded the Post Doctorate Clinical Fellowship in Endoscopy at the Royal Free Hospital in London.
He is also a Guinness World Record holder for two records. He wont he first for removing the largest fibroid — which weighs 3.4kg — laparoscopically. He won another for surgically removing the heaviest uterus — which weighs 4.1kg — laparoscopically. He had also recently authored a book, 'Anatomy of Success,' which garnered much attention in medical fields across the world.
Read
All that you need to know about endometriosis, a disease of the uterus
Govt launches scheme to provide free health check-ups to pregnant women
Close