Two leopards attack, injure two women at Mumbai's at Aarey Milk Colony
This takes the number of people injured by leopards in Mumbai's Aarey Colony to seven this year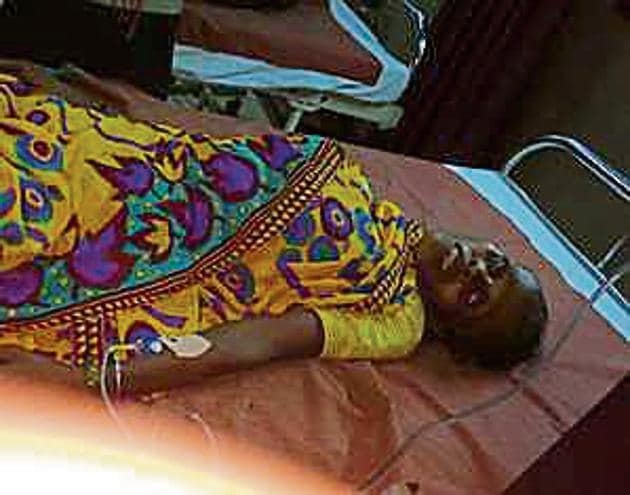 Updated on Oct 02, 2017 09:50 AM IST
Less than a month after the forest department trapped a leopard suspected of having attacked four children, killing one, in Aarey Milk Colony, two women were attacked by two leopards at Chafyachapada in the area on Saturday night. This takes the number of people injured by leopards in Aarey to seven this year.
According to the forest department, Bayaji Bhimrao Bendre, 50, and Ashabai Gavit, 55, residents of a tribal village near dairy unit 17, were attacked between 8.30pm and 9pm.
"Our investigations revealed that Bendre got between the animals and a stray dog they intended to prey on. On hearing the commotion, Gavit, who was nearby, ran to the spot. The leopard scratched her," said Jitendra Ramgaokar, deputy conservator of forest, Thane forest division.
While Bendre had injuries on her arm and left leg, Gavit was hurt on her arm, said forest officers. The two were taken to the Brihanmumbai Municipal Corporation's (BMC) Balasaheb Thackeray Trauma Centre in Jogeshwari (East). "Gavit was discharged on Sunday. Bendre should be discharged by Monday. Both women are out of danger," said Ramgaokar.
This is the first leopard attack in the area in two months. On July 28, a 13-year-old Aarey Milk Colony resident was attacked. On July 22, a two-year-old was killed near Maroshipada, a hamlet near Film City, adjacent to Aarey.
A three-and-a-half year old male leopard was trapped in a cage near the Aarey helipad on September 14. Based on the animal's unique rosette pattern, the forest department confirmed that it was behind the previous attacks.
The animal was kept in captivity at the Sanjay Gandhi National Park (SGNP), Borivli, and was expected to be released within 10 days. However, the leopard continues to be kept in isolation at the park's rescue centre. Officers said it was unclear when it would be released.
SGNP, located north of Aarey, has around 35 free-roaming leopards that often enter Aarey in search of prey such as dogs, goats, chicken and pigs.
Forest officials said a five-year-old female leopard and her two one-year old cubs have been frequenting the area where the attacks took place. "We dispatched a team of forest officials on Saturday night. Two camera traps were installed to monitor the leopards' movement," said Ramgaokar.
He said the possibility of more attacks cannot be ruled out as long-standing issues that were taken up with Aarey authorities had not been resolved. "Issues such as a lack of proper lighting and walking paths, improper management of garbage — which attracts dogs and pigs — continue to threaten the safety of these tribal hamlets. Unless these issues are addressed, the big cats have easy access to their prey," he said.
Animal welfare officers said a scientific procedure needs to be in place before leopards are declared dangerous and trapped. They added that this procedure needs to be made public. "The forest department seems unsure of whether they trapped the right leopard on September 14," said Sunish Subramiam Kunju, secretary, NGO Plants and Animals Welfare Society (PAWS-Mumbai). "Its DNA needs to be analysed and its saliva needs to be matched with that found on the victim's body. A forensic analysis can prove if it is the same animal," he said.
Female leopard killed in hit and run
A speeding vehicle ran over a one-and-half year old female leopard near Ghodbunder Road between 4am and 5am on Sunday, killing it.
"Prima facie, it seems that this is a hit-and-run case. The leopard's body was taken to Sanjay Gandhi National Park in Borivli, where a post mortem will be conducted. We are investigating and tracking the vehicle allegedly responsible for the kill," said a senior forest official.
Veterinarians from SGNP said the leopard died on the spot. "The preliminary examination shows that the vehicular impact on the animal's rib cage and legs killed it. However, the post mortem, which has been scheduled for Monday, will reveal the exact cause of death. Veterinarians from Bombay Veterinary College will be present at the procedure," said Dr Shailesh Pethe, veterinarian, SGNP.
So far, five leopards have been killed in road accidents in Maharashtra this year.
According to the Wildlife Protection Society of India, 53 leopards were killed in road and train accidents in Maharashtra between 2010 and 2017.
Leopard attacks at Aarey this year
September 30: Two middle-aged women were attacked at Chafyachapada in Aarey Milk Colony near unit 17.
July 28: Aarey resident Aniket Dileep Page, 13, was attacked near the pump house around 3.30pm.
July 22: Two-year-old Vihaan Nilesh Garuda, whose father is an SGNP staff member, was attacked and killed near Maroshipada, a hamlet near Film City.
May 29: A four-year-old boy, living at Royal Palms in Goregaon, was attacked.
May 15: A three-year-old boy was saved by his mother, who snatched him from the claws of a leopard that had pounced on him in Chafyachapada, Aarey. He suffered minor injuries.
March 17: Pranay Rinjad, 3, was attacked near Khadakpada, a tribal hamlet. He escaped with injuries on his chest. and throat after residents scared the leopard away.
Close Story