Versova beach cleanup, a spark that might light up the whole of south Asia: UN patron of oceans Lewis Pugh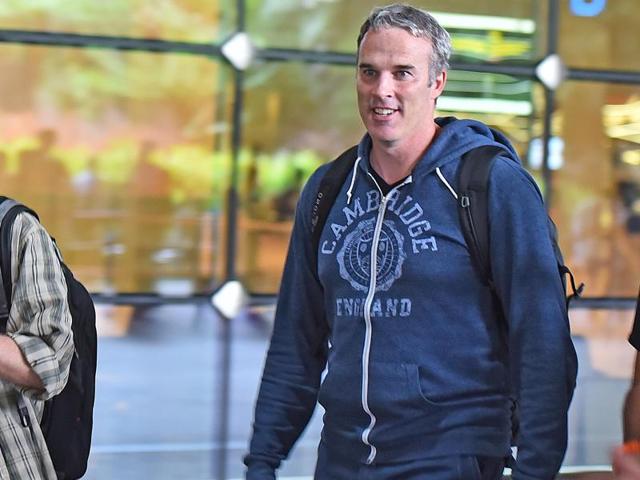 Published on Aug 06, 2016 01:00 AM IST
This weekend, when the Versova residents volunteers (VRV) clean up their beach again, they will be joined by United Nation's (UN) 'Patron of the Oceans' Lewis Pugh.
A world-class swimmer, a maritime lawyer and a campaigner for cleaner oceans, Pugh had been following the Versova residents' work over the last 43 weeks as they collected over 1.7 million kilograms of trash from the dirty beach.
In 2010, Pugh swam across a glacial lake in the Himalayas to draw attention towards the melting of mountain glaciers.
As he touched base in Mumbai, in an exclusive interview to Hindustan Times, Pugh spoke about pollution problems at beaches across the world, measures to resolve them and his decision to join the Versova beach cleaners.
Why did you decide to travel to take part in the beach cleanup drive?
My visit to Mumbai is to support the Versova residents and also to thank them on behalf of the United Nations. They have been working now together through a citizens movement for 43 weeks making it the biggest beach cleanup in history. And for the UN, this is a very important thing because we want to support everyone in this endeavour especially in south Asia.
What are some of the measures that have been adopted across the world to keep beaches clean?
Nothing of this scale has ever happened in the past across the world. The biggest cleanups were documented as early as the Second World War with London, Berlin, Stalingrad, and Hiroshima Nagasaki, basically in warzone areas. But outside war zones, we have never seen anything like this, it's astonishing.
How can the problem of beach or ocean pollution be reduced?
When it comes to the cleaning up of beaches, people have three options - first is to say that it is not our problem, second is to think that somebody else will clean it up and finally the third is to roll up our sleeves and do something about it ourselves. It is amazing that the Versova residents chose the third option because most problems in the world are solvable if we choose the third option.
What makes a beach cleanup successful?
There is no way we will ever be able to clean up anything unless all stakeholders are involved, whether that be governments, businesses and civil societies, all working together. Also in the modern era, the media plays a crucial role in educating people about the importance of protecting our oceans and environment.
What do you plan to do during the weekend's cleanup programme?
I am going to get straight in there, roll up my sleeves and start helping. Following the cleanup drive, I will send a report back to UN, telling them what I have seen in Mumbai. The main idea is to see how this effort can be scaled – basically take what's happening in Versova, treat that as a model and scale it around the world. This is a spark that might light up something very special for the whole of south Asia.
How is marine ecology suffering due to polluted beaches and plastic pollution?
The threat of plastic pollution to our oceans is enormous. We are only beginning to understand how the big the problem is right now. Almost 40 years ago, if you had to cut open any sea bird in the world, you would find about 10% had plastic in their stomach. Now, it is round about 90%, which is not only confined to avian species but fish and other marine mammals.
Close Story