All you need to know about the farmers' agitation in Maharashtra
Mar 12, 2018 12:39 PM IST
The farmers have reached Mumbai and plan to surround the Vidhan Bhavan to press for their demands of an unconditional loan waiver, and transfer of forest land to tribal farmers who have been tilling it for years.
After covering 180km on foot over five days, over 35,000 protesting farmers from across Maharashtra have converged at Azad Maidan, Mumbai in support of their demands. (Live Updates)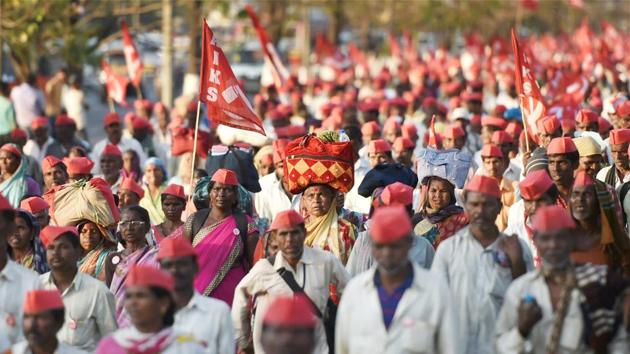 What is happening in Maharashtra?
Over 35,000 farmers from across Maharashtra, led by Left-affiliated All India Kisan Sabha (AIKS), embarked on a 'Long March' from Nashik to Mumbai on March 6 to press for their demands. Their 180 km march culminated in Mumbai on March 11.
What are the farmers' demands?
Farmers, who are struggling to cope with the agrarian crisis and natural calamities, demand:
* An unconditional waiver of loans as well as electricity bills.
* Implementation of the Swaminathan Commission recommendations, including an announcement of minimum support price for agriculture produce.
* A pension scheme for farmers.
* Monetary compensation of Rs 40,000 per acre for crop damage because of last month's hailstorms and unseasonal rains.
Their other significant demand is transfer of forest land they have been tilling for long.
Do they have any political backing?
Shiv Sena, a partner in the ruling BJP-led coalition, has vocally supported the agitation. Apart from them, Opposition Congress, NCP, Raj Thackeray-led Maharashtra Navnirman Sena and AAP have also extended their support.
How has the Maharashtra government responded?
Maharashtra chief minister Devendra Fadnavis held a high-level meeting on Sunday to review the situation. "We are positive on the demands of the farmers. We have set up a six-member cabinet committee to discuss their demands," he said after the meeting.
What is the situation in the city?
The Mumbai police have deployed heavy security in and around south Mumbai, especially Azad Maidan, where the farmers have halted, and Vidhan Bhavan, on Monday, to ensure there are no untoward incidents.
A team of around 550 police personnel in uniform are on guard in south Mumbai, including two deputy commissioners of police, four assistant commissioners of police, 58 women cops and 282 policemen with lathis.
Apart from the police, 11 units of the State Reserve Police Force and Riot Control Force have been deployed.
What next?
The police said the farmers would not be allowed to proceed from Azad Maidan to state assembly, where the Budget session is underway, and that they are prepared to restrict them. A delegation of farmers is expected to meet chief minister Devendra Fadnavis and present their demands around noon on Monday.