Aruna Shanbaug's 'attacker' traced to UP, but is nowhere to be found
Even as police remains clueless about deceased KEM nurse Aruna Shanbaug's assailant, a Mumbai-based local newspaper on Friday claimed to have traced him to a village in Uttar Pradesh where he is working as a labourer and said he cannot recall what happened on that fateful day.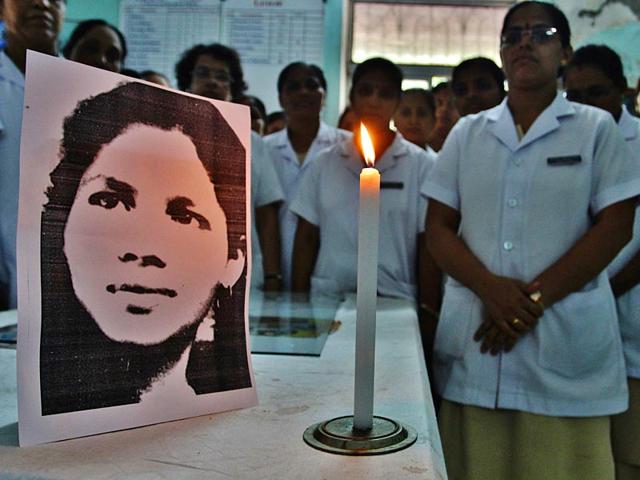 Updated on May 30, 2015 08:56 AM IST
A man suspected to be Aruna Shanbaug's assailant was traced to a village in UP where he lives with his wife, two sons and a daughter and works as a sweeper with power generator NTPC.
When HT reached Parpa village, 60km from Ghaziabad, on Friday, Sohanlal Valmiki — who served a seven-year sentence for the attack that left the Mumbai nurse in a vegetative state for 42 years before her death on May 18 — had not come back from work.
"We don't know anything about this incident. He never told us anything of this sort," said his sons Kishan and Ravinder, both in their 30s.
They blamed the large media contingent camped in the village for their father having gone missing.
"My father is home from work at around 7.30-8pm. But today he hasn't come back after some mediapersons went to NTPC and came to our house," said Kishan.
Both brothers work as labourers in Bulandshahr district.
The media descended on Parpa a day after Marathi newspaper Sakaal Times reported a meeting there with Valmiki — who throttled Shanbaug with a dog leash and sexually assaulted her while working as a ward boy at Mumbai's King Edward Memorial Hospital in November 1973.
He was convicted of assault and robbery, jailed and released in 1980, never to be heard of again. "Why are you people calling it rape," a PTI report quoted him as asking the reporter.
Originally from Bulandshahr, Valmiki, now in his late 60s, settled in Parpa some 26 years ago, his family and neighbours told HT. Soon after, he landed the job at the NTPC plant, 20km from the village.
His two-room home was a gift from wife Vimla's brother, neighbour and friend Naresh Valmiki said, adding, "Vimla has gone to Pune for her nephew's wedding."
Most of the villagers vouched for Valmiki, calling him a good man and saying they had no idea about the Shanbaug case. Many flocked to his house in a show of support, saying it could be a case of mistaken identity.
"I don't know since I was born much later. But Sohanlal Valmiki is a simple and humble man who greets both young and old alike," said Pintu, alias Arif. Ankul, who called Valmiki 'uncle', said he was a sensitive man and was suffering from a heart ailment.
The neighbours told HT that apart from his immediate family, Valmiki had a brother in Delhi and two sisters. Another brother, they said, had died earlier this year.
Read
Sohanlal Bhartha Valmiki, the man who raped Aruna Shanbaug is a forgotten story now
Close Story
Personalise your news feed. Follow trending topics