India-France Rafale deal could be finalised this month
The deal is expected to cost between 7 and 8 billion euros (Rs 60,000 crore – Rs 65,000 crore). Once closed, the 36 fighter aircraft will reach India by 2019, defence ministry sources said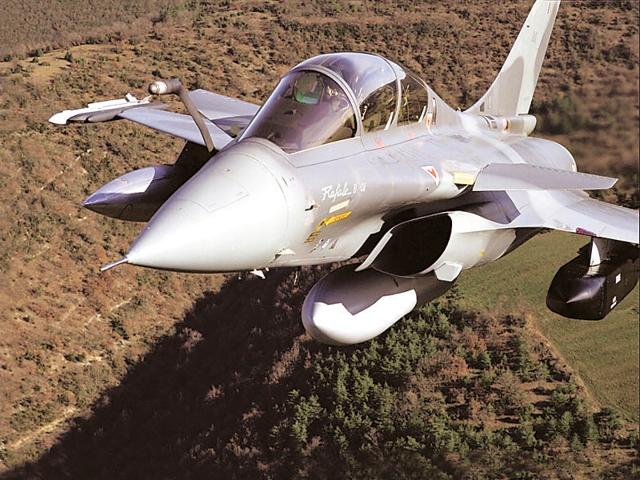 Published on Apr 15, 2016 01:09 AM IST
Hindustan Times | By Manish K Pathak
, Mumbai
India and France are likely to close the purchase of 36 Rafale multi-role fighters from Dassault Aviation by the end of April or the first week of May, with the countries signing an inter-governmental agreement and the commercial contract.
Defence minister Manohar Parrikar said he was positive about the deal. "It should be finalized soon," he said on the sidelines of the Maritime India Summit.
The deal is expected to cost between 7 and 8 billion euros (Rs 60,000 crore – Rs 65,000 crore). Once closed, the 36 fighter aircraft will reach India by 2019, defence ministry sources said.
The initial price of 11.6 billion euros (Rs 85,000 crore) with 2015 as the base year was brought down by Dassault to 8 billion euros (Rs 65,000 crore), with 2011 as the base year for fixing the price for each aircraft manufactured. Sources said negotiations are underway between the countries and Dassault to come to a mutually-agreeable price.
When the defence ministry floated a tender to procure 126 multi-medium role combat aircraft (MMRCA) and a Request for Proposal (RFP) in 2007, Rafale had for competition Swedish Saab Gripen, Eurofighter Typhoon, Russian Mikhoyan MiG-35, American F-16 and F/A-18IN Super Hornet.
In 2015, the government officially withdrew the RFP floated for MMRCA and had instead opted to buy 36 Rafale fighters off the shelf, keeping in mind the depleting squadrons of the Indian Air Force.
After Prime Minister Narendra Modi's France visit in April 2015, and it was bilaterally decided the cost of each fighter aircraft was much less than what was being offered in the MMRCA deal.
Dassault's Rafale could also bid for the crafts to be made in India under the 'Make in India' scheme, sources said.
Close Story