It is a deadly walk to the well in drought-hit Beed
Updated on Apr 28, 2016 12:11 PM IST
As the severity of drought worsens in Marathwada, the scramble for water has made women and children most vulnerable to such deaths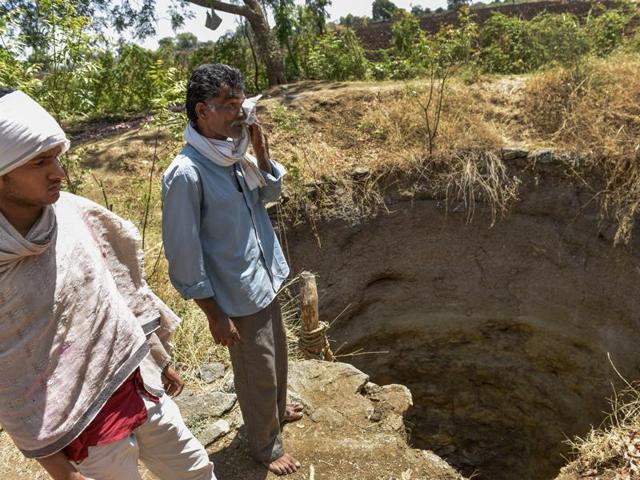 It was three in the afternoon on Saturday when Chabubai Khamkar lost her balance, fell into a 40-foot-deep well and died, barely 100 metres from her house in Talnewadi village in Beed district. Chabubai's village relies on tankers for water supply, but her house is on the outskirts where the tankers don't go. There's no handpump either.
The well she fell into is now the sole source of water nearly 20 houses. She had last drawn water from the well, which is now perilously low on stock (it will run dry in the next 10 days), late on Friday night when the village got its eight-hour power supply and she could pump up the water without much difficulty. But she had some free time on Saturday and decided to draw water up manually.
"The well is not really meant for drawing water manually and we usually pump the water out. Since there was absolutely no water in the house, my mother decided to draw up a few pots for housework. It cost her life,"' said Ravindra Khamkar, Chabubai's 23-year-old son and a computer engineer. "She worked as a daily wage farm labourer to put me through school and college," said grief-stricken Khamkar.
Chabubai's is the third drought-related death in Beed district in the last week. A day earlier, a 11-year-old boy, Sachin Kengar from Veeda village also in Beed district fell and drowned in a well when he had gone to fetch water with his cousin. Just three days before this, 12-year-old Yogita Desai, a fifth grade student from Sablkhed village in Beed, who had gone to fetch water from a hand pump just 500 meters away died of dehydration after making four trips back and forth in the searing heat.
As the severity of drought worsens in Marathwada, the scramble for water has made women and children most vulnerable to such deaths. Across the eight districts in rural areas, one sees women and children, now home on summer vacation, helping out families to fetch water from bore wells, run down wells and any other water source still available.
While the administration is not tracking these deaths, local journalists have pegged the figure at around 45 to 50 in the last three months.
"The administration is not considering these deaths but they are happening almost every alternate day as getting access to water gets more difficult in rural areas. Local journalists and newspapers have been keeping some track. By March end, I had reports of nearly 38 such deaths. The figure is anywhere between 45 and 50 now," said Atul Deulgaokar, senior environmental journalist and author based in Latur and member of the Maharashtra State Disaster Management Authority.
Deaths reported so far in local newspapers include that of 10-year-old Rajshree Kamble in Beed, Natabai Tekale in Latur, 16-year-old Komal Hande in Beed, 14-year-old Manohar Harale and Rohit Bhagat in Latur, Sahebrao Adgale in Beed.
"My daughter died because she tried to fetch water by herself from the local well that had almost run out of water. We were not at home. She lost her balance trying to draw the pot of water up and fell. She died four days later due to the head injury, also because of apathy of doctors at the civil hospital. The village started getting tankers after she died," said Vimal Kamble, Rajshree's mother told HT.
Personalise your news feed. Follow trending topics