Ayodhya, kanwar, gaushala: Yogi rakes up Hindutva sentiments at election rally
Published on Nov 18, 2017 11:14 PM IST
BJP leaders in their speeches on Saturday mentioned Kailash Mansarovar pilgrim centre, Kanwar Yatra and Ayodhya to woo voters in the upcoming Ghaziabad civic elections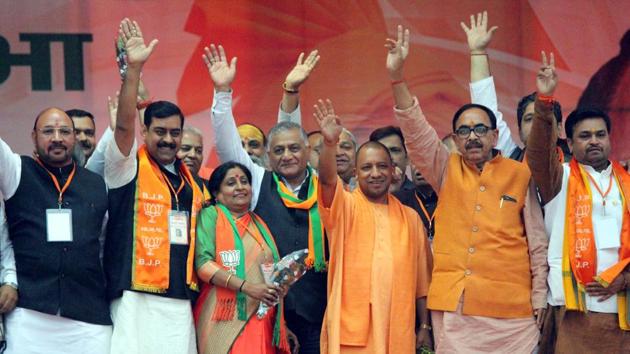 Bharatiya Janata Party's (BJP) star campaigner chief minister Yogi Adityanath and other party leaders tried to rake up Hindutva sentiments in a rally on Saturday for the Ghaziabad local body elections to be held on November 26.
The BJP leaders, in their addresses, mentioned the recent celebrations in Ayodhya, construction of Kailash Mansarovar pilgrim centre in Ghaziabad and the Kanwar Yatra.
The election rally was held at Ghanta Ghar Ramlila Ground.
Yogi Adityanath spoke about the grand celebration that the government held ahead of Diwali in Ayodhya. "It is because Diwlai is related to Ayodhya — Ayodhya got lightened up on Diwali. The country and people around the world saw how we brightened up Ayodhya, while keeping pollution at bay. Our government has decided that all streetlights in all municipal corporations will be replaced with LED lights. Once that happens, it will be a daily celebration of development for the people," he said.
He also praised his government's efforts in taking out successful Kanwar Yatra during the Hindu month of Shravan. He said that his government ensured that the Yatra remained successful despite opposition from several quarters. "I remember that before the Kanwar Yatra, people raised issues about the pilgrimage and said that it should not be allowed. I told them that Kanwar Yatra will take place without any issues and we will make all arrangements. People said that no shankh (conch), mic or ghanta (bell) should be allowed. I told them it is 'Shiv Yatra (journey for Shiva)' and not 'Shav Yatra (funeral march) '. In Shiv Yatra, everything will be played and no one can stop that," Yogi said.
He added that the government made arrangements for showering petals on pilgrims with the help of helicopters and also kept a close watch on the Kanwar Yatra procession.
He lauded the inauguration of the Kailash Mansarovar pilgrim centre in Ghaziabad during his visit on August 31. He said that it will give Ghaziabad new opportunities and will ensure that pilgrims get a one-stop centre to help them undertake the Char Dham and Kailash Mansarovar
pilgrimages.
He also added that his government is planning to build gaushalas (cow shelters ) in different cities and these will be linked with new technologies.The chief minister, in line with his other campaigns for the assembly elections, ended his address with the chant 'Jai Shri Ram'.
Other BJP leaders and MLAs also chanted the same during or at the end of their addresses.
Ghaziabad has had only BJP mayors since the formation of the municipal corporation.
This time, the city goes to local body polls with the party fielding candidates for all the 100 seats of councillors for the municipal corporation and even a woman candidate for the post.